Hello again!
… and welcome to the May issue of our Link Ethiopia news updates. We hope that you will enjoy reading about our latest developments.
The team members are working hard on various new projects here in the UK. First and foremost among these are our updated ideas for the School Links which we are very enthusiastic about. We are planning to introduce schools in the United Kingdom to complete communities in northern Ethiopia, teaching them not only about the traditions and culture of this colourful country as a whole, but also linking them much more intimately with the local communities living around their schools. We hope to encourage our UK schools to give support to these Ethiopian communities by helping them to provide for their children a decent and reasonably resourced educational environment to learn in. We shall tell you much more about all of this in future updates.
News from Ethiopia
Ethiopia is one of the world's largest coffee producers and this 'black gold' provides about two thirds of its export revenue. Our report in March on the Ethiopian coffee ceremony shows the importance of the product in everyday life. The giant coffeehouse Starbucks appears now to be prepared to work with the Ethiopian government to develop trademarks for coffee varieties, including Harar, Sidamo and Yirgacheffe, having opposed such a trademark plan last year in favour of a regional certification system in Ethiopia. Lets hope this could signify a fresh step in the development of an added value coffee market for Ethiopia.
A recent report issued by the Save the Children alliance finds that Ethiopia has made progress in reducing child deaths under 5 by 20% within the last few years. There is however much work still to be done to reduce further one of the highest child death rates in the world by tackling the lack of access to health facilities, to tackle the poor quality of drinking water and its related diseases, and above all the notably poor health conditions for nursing mothers.
Lalibela
Wow – what a place! – one of the most impressive man-made wonders of the world, one of the greatest historical sites in Africa and Christendom, a centre of pilgrimage, and arguably Ethiopia's top attraction, the likes of which cannot be seen anywhere else in the world. Wow – what a place! – one of the most impressive man-made wonders of the world, one of the greatest historical sites in Africa and Christendom, a centre of pilgrimage, and arguably Ethiopia's top attraction, the likes of which cannot be seen anywhere else in the world.
SDating from the 12th century and following King Lalibela's instruction from God, maybe the earthly workforce did have celestial help to construct an amazing series of rock-hewn churches, some carved into the rock, some entirely free from it, in a relatively short time. Almost a miracle of masonry skills and an attempt maybe to create a new Jerusalem in Africa, Lalibela today still has robed priests and monks who float among the passageways and tunnels of its medieval churches. From hidden crypts and grottoes comes the sound of chanting, with the smell of candles and beeswax pervading the deep cool interiors. Despite the new airport nearby to boost tourism, the place is still awe-inspiring and relatively untouched, a must in any visit to Ethiopia.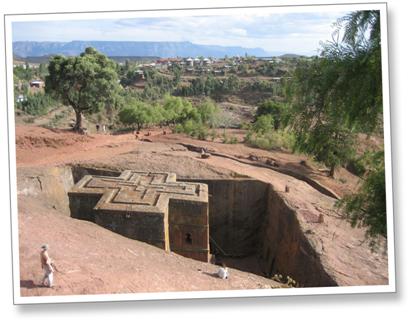 School Link focus
One of our longest running links is between Rekebnaha's Kindergarten in Gondar and two UK schools (Whiteheath Infants and Whiteheath Junior Schools in Ruislip). The success of this link is undoubtedly due to the sheer enthusiasm displayed by the Link Coordinators on both sides. Rekebnaha's Kindergarten has grown from strength to strength ever since Rekebnaha gave up the land she used for her home to build the school. She proudly displays letters and pictures sent by Whiteheath, and gets the whole school involved in drawing colourful pictures for the students in the UK.
Students at the Whiteheath schools have undertaken a number of fundraising projects, including 'counting their blessings' at Christmas, where each child gave a small amount of money for all the good things they have, such as a warm bed and hot meals. Older students have taken a more entrepreneurial approach and have marketed and sold products at a school bazaar, with proceeds going to Ethiopia. This is without doubt a very positive and fruitful link for all involved!
Resourcing Project news
Travelling some 6,000 miles, our largest book shipment to date arrived safely arrived in Gondar, Ethiopia in April. The 20 foot long container had set sail last November after a busy summer of book collections, sorting and packing with the very generous support of our UK schools. On arrival in Ethiopia an amazingly energetic team of students helped unload and organise the 25,000 books and 12 computers, ready for distribution. We are very pleased that through this shipment we were able to support 15 primary and secondary schools in the region, whose libraries have now been significantly enhanced!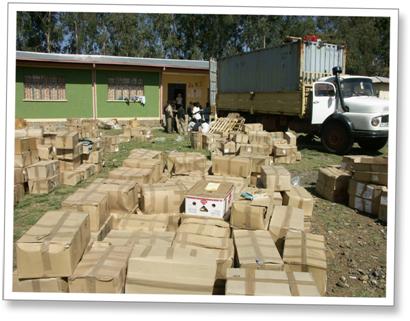 Our Gap Ethiopia scheme
This successful and long-running scheme still has two places left to allocate for the academic year 2007 – 2008 and we are happy to receive applications from either individuals or pairs, whether boys or girls.
Applicants should be in the present Year 13 (Upper Sixth) in the UK and be interested in teaching English Communication Skills for a period of three months in northern Ethiopia. The cost of our scheme is about half that of rival gap schemes in the UK due to the totally voluntary roles of all those concerned. If you know of any interested and suitable young people, Link Ethiopia would be very pleased to have an initial communication from them by email. The address is below. We can then give them lots more information to help them to make a decision.
Gift Ethiopia
Stuck for a birthday present? Our Gift Ethiopia catalogue is just what you need!
Email [email protected] and we'll post you our colourful brochure where you can buy your friends and family gifts such as a classroom, clean water supply and books for a school in Ethiopia.
Make your gift go further.
Coming up on Television
Globe Trekker – Ethiopia:
Zany presenter Ian Wright in this varied country
Monday May 28th (Travel Channel)
Africa Trek – Ethiopia
Tribal Realm, Christian Empire
Thursday June 7th (Travel Channel)
Tribe – Suri
The very primitive and amazing Suri tribe
Tuesday June 12th (UKTV Documentary)
Proverb of the Month
" The haughty blind person picks a fight with his guide "
How you can help!
If you would like to help the work of Link Ethiopia or would like to associate yourself with one of our school projects (classrooms, water, toilets, books, etc) then please get in touch.
You can donate via the following link, or by contacting us – details at the bottom of this email.