Greetings, at the end of the Millennium!
Welcome to our August 2007 email – that's if you use the Gregorian calendar!
As you read this, 1999 is just about to end in Ethiopia (given their use of the Julian calendar) and all Ethiopians are looking forward to September 12th, their New Year's Day. Plans are afoot across the whole of Ethiopia, and indeed in countries all over the world, to celebrate the New Millennium with huge enthusiasm.
But regardless of the year you are in, do read on to find out the very latest news that we have for you from Link Ethiopia.
News from Ethiopia
We read that Professor Ephraim Isaac, a retired Ethiopian Harvard scholar who lectures around the world on religion, peace, and conflict, has just helped resolve his country's two-year political crisis using problem-solving methods as traditionally Ethiopian as his clothes. 35 opposition party members who had been kept in jail for almost two years on charges of attempting to overthrow the government have just been released thanks in part to his traditional peacemaking methods. He led a non-partisan Ethiopian "council of elders" that quickly negotiated a deal acceptable to both sides. "In our tradition there is forgiveness, and elders mediate. We do not believe in grudge and vengeance." Mr. Isaac explained. "This is a very rich culture."
And technology for the millennium: There will be 1.2 million mobile phones for sale to the hundreds of thousands of tourists and Ethiopians living abroad coming to celebrate the Ethiopian millennium next month. The Ethiopia Telecommunication Corporation (ETC) has prepared these mobile phones to avoid communication problems during the millennium celebrations said the ETC Executive Director.
Addis Ababa capital of contrasts
Addis Ababa means 'New Flower' in Amharic, and at just over 100 years old it is relatively new, yes, but a flower isn't the first thing that springs to mind! Noisy, dusty, sprawling and yet often colourful and vibrant, Addis is the third largest city in Africa – the diplomatic capital for the UN ECA and the OAU. It boasts some of Africa's most important museums and universities yet retains a definite small town feel, even if it does have one of the largest outdoor markets in Africa. Addis is the third highest capital in world, at 2300m, and it should have a tropical climate at 8 degrees north but it feels much more temperate! This is a city with a curious mix of past and present – wattle and daub housing next to luxury high rise buildings; imperial, Marxist remnants adjacent to new private sector offices; medieval robed priests strolling the streets next to suited businessmen and women on their mobile phones.
Addis is the capital of one of the ten poorest countries in the world, but you might not guess it – this is a city of constant and rapid change.
School Link focus
The link between Padstow School in Cornwall and Arbatu Ensesa Elementary School in Gondar started when Jan Moule – a teacher at Padstow – returned from Ethiopia, where she had been working for two years with VSO.
Children at both schools have been communicating and learning about each other since then. Year 2 Padstow students have made books about what they see on their walk to school, and children in Ethiopia are creating something similar. Some of the older pupils filled a box with different items from Cornwall, and in return received lots back from Gondar. To strengthen the link further, Jan returned to Ethiopia in April and has secured funding for Askal – an English teacher at Arbatu Ensesa – to visit Padstow School this Autumn.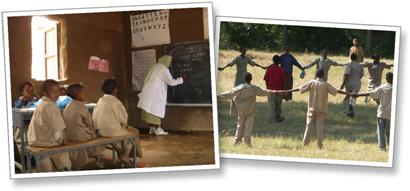 This coming year the young people in Padstow are hoping to support Arbatu Ensesa as they grow and sell vegetable produce as part of the school's 'gardening club', with proceeds going towards supporting some of the poorest pupils at the school. Students will be able to exchange information about topics such as the seasons, how produce is grown and the impact of weather.
Resourcing Project news
The largest elementary school in the Gondar region of Ethiopia, Tsadiku Yohannes, is set on a large site in a relatively poor area of Gondar town. It caters for 3,200 children, half in the morning shift and half in the afternoon, and teaches pupils from Grades 1 to 8.
Tsadiku Yohannes is particularly special because it also caters for blind and deaf pupils and those with learning disabilities
The school is in need of all kinds of support. We recently worked with the local community to address the shortage of water facilities on site. Thanks to donations we have received in the UK we have been able to support the school with a new drinking water facility for pupils to use during break-times.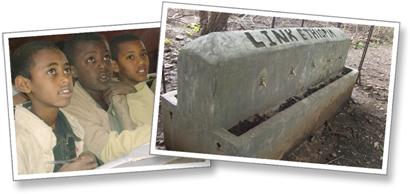 Our Gap Ethiopia scheme
Before you receive our September issue of our News Update, two more young and energetic volunteers will have left for their placement in Ethiopia. Why such an early departure? To catch the Millennium, of course! The Gondar region is going to be one of the really exciting places to be on September 12th, and Henry Turnbull and Paddy Hodge are enthusiastic to begin their Ethiopian stay in real celebratory style.
They will be based at the Fasiledes Secondary School during their three-month stay and will be teaching English Communication Skills to small groups of keen learners.
Meanwhile, here in the UK, we shall be on the lookout for new recruits for the 2008-2009 season. If you know of interested young people, tell them to get in touch and to ask for our colourful Gap Ethiopia leaflet that gives all the details.
Blind student support
We would like to support an enthusiastic group of young students in Gondar, northern Ethiopia, called the Blind Students Association. They are in need of basic equipment to help them at school and in everyday life – Braille materials, sticks, talking watches etc. We are looking for a blind group or organisation in the UK that might wish to link with them and support them.
Any ideas?
One more time – Help!!!?
Do you know of a business or indeed an individual with unused space in North or Central London?
Or do you know anyone who would sponsor us with their generosity by funding an office space on our behalf? We know many young people who would love to help us by volunteering with some regular time each week, or a limited period of concentrated effort.
But we do need a welcoming (if basic) space where we can work alongside them and focus their enthusiastic efforts.
Coming up on Television
Air Crash Investigation
An Ethiopian aircraft is hijacked in mid-air
Monday September 3rd (National Geographic)
Around the World in 80 Treasures
Ethiopia and the Ark of the Covenant
Tuesday September 18th (UKTV Documentary)
Adventure Challenge – Hostages in the Desert
Three adventures in the remote Afar desert
Wed September 26th (Travel Channel)
Proverb of the Month
"After you throw the spear, you cannot catch the end of it"
Website Link of the Month
Thorough and detailed coverage of the country at CIA Factbook
and of course our own colourful website at www.linkethiopia.org
Help us?
As always, if anyone reading this would like to offer us expertise, knowledge and help with our work or would like to associate yourself with one of our school projects (classrooms, water, toilets, books, etc) then please get in touch. You can donate via the following link, or by contacting us – details at the bottom of this email.