Hello everyone – and welcome to the February news update!
We are now productively enjoying our new office in north London, and the Ethiopian community who use this church complex on a Sunday have made us very welcome indeed. Meanwhile, out in Ethiopia are James Love and Rose Bradbury who are actively involved in a detailed research project on Link Ethiopia's behalf – visiting schools, talking to local education chiefs, and collecting valuable data that will guide our own steps in the future. And for other news, do read on…
News from Ethiopia
As many of you probably know, Operation Solomon and Operation Moses were responsible in the 1980's for airlifting a considerable community of Ethiopian Jews – called 'falashas' – out of the country and in to Israel. It was recently in the news that the Israeli Government has launched a five-year project aimed at helping the falashas integrate better into Israeli society and getting a more secure footing on the ladder of work and jobs. This would be delivered partially by helping young Ethiopians at school level with extra tuition and support.
It was also recently reported, by the UN, that Ethiopia is supplying five helicopters to support the peacekeeping force in the Darfur region. These aircraft will be used to fly troops and supplies around this huge, remote region of western Sudan. This offer seems to be one of the first pledges of support from an African Union country.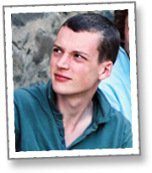 Meet the Team: Rupert Bateson
Rupert Bateson is our volunteer masterminding many aspects of the ever successful Gap Ethiopia scheme. On his visits to Ethiopia, Rupert has coordinated the gradual expansion of our volunteer teaching programme and he is able to draw upon the charity sector experience he has gained from the rest of his professional life.
Black Gold: A film about coffee & trade
Almost as soon as you read this comes a programme on UK television which should be seen by us all and which Link Ethiopia is very proud to feel affiliated with.
Ten years ago, a young man called Nick Francis went out to teach in Gondar as one of a pair of our gap volunteers. He spent three months in Ethiopia, teaching English, entertaining hundreds of people in Gondar with his skills in magic, and giving himself an extraordinary experience amid the very welcoming Ethiopians who were his hosts.
Nick recently produced, with his brother Marc, a film called "Black Gold", which has already had a significant impact on the Ethiopian coffee world. The film is to receive its UK TV premiere on Tuesday of this week, Feb 26th, on the More4 channel at 10pm. But do not fret. If you miss it because it is so soon after the arrival of our newsletter, then you can catch it again on Saturday March 1st, also at 10pm and also on More4.
It has won awards all over the world – at the film festivals of Melbourne, Rio de Janeiro, London, Sundance, etc etc. It has to be seen! The Daily Telegraph called it "remarkable – a moving but scandalous story. Black Gold has extraordinary power".
Do try to catch it, whether here in the UK or on DVD wherever you are based. It is to be shown for the first time in Addis Ababa on March 21st and we have plans with Nick to show it in the Gondar cinema as soon as this can be arranged. Visit www.blackgoldmovie.com for more information.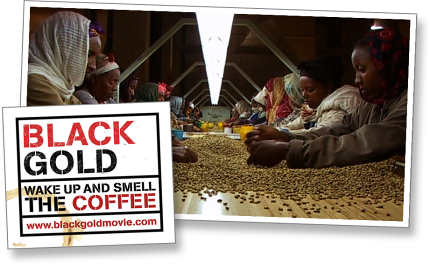 School Link focus
We are really pleased to have three new pairs of schools join our school linking scheme. In Gondar, Ethiopia, Edeget Feleg Elementary School has been linked with The Green Primary School in Tottenham, London. The Green has a small but very diverse student body and many of the students have ancestral links to the African continent.
Our Bahir Dar base in Ethiopia has been expanded with Queniborough Primary School, in Leicestershire, linking with Yekatit 23 Elementary School. History buffs will be able to tell you that Yekatit 23 takes its name from the date that the Ethiopian Army defeated the Italian invasion at Adwa in 1896.
Our final new link is between Broadwater Primary School in Tooting, London, and Bahir Dar Academy, which is an unusual school by Ethiopian standards because some of the teaching staff are recruited from other countries such as Canada and India. The Coordinator of this link in the UK spent 2 years in Ethiopia as a volunteer so she will be able to bring some first hand experience – and enthusiasm – to her new link.
Link Ethiopia is always looking for new opportunities to introduce students to other cultures – so if you, or someone you know, would like to consider linking a UK school, please get in contact and we will send you some more information.
Community project news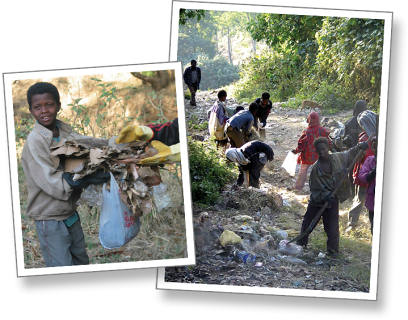 One of our longest running community initiatives is called the Clean Gondar Project, which is run in partnership with the Tara Centre in Gondar, Ethiopia. The scheme works with some of the poorest children in the town, to teach them about the value of work and to demonstrate to the rest of the community how little effort is needed to keep their local area clean.
Each Saturday morning, 30 children aged 8-15 do two hours' work picking up litter in some of the dirtiest parts of the town, and in return they receive breakfast, lunch, a shower and clothes. The scheme also enables the project staff to get to know the children better which in turn can sometimes help them in different ways, for example encouraging them to attend school during the week. Typically a total of about 120 disadvantaged boys and girls participate in this project each year.
To support the Clean Gondar project, visit our Gift Ethiopia website where a donation of £40 will cover all the costs of running the project for a week. Thank you!
http://www.giftethiopia.org/product_info.php?cPath=27&products_id=57
Our Gap Ethiopia scheme
Our next four gap volunteers have just left the UK to take up their teaching postings in Gondar and Azezzu.  Cassey, Hannah, James and Will are equipped with a brand new set of teaching activity books and have just completed their training sessions at our Project Office with flying colours! They will be concerned particularly with helping their small groups of students to clarify their pronunciation of the English language, but will also assist with extending their vocabulary and improving their general use of correct English. It is a rare experience for any pupils in Ethiopia to be able to converse with native English speakers in small group situations over an extended period, and those lucky enough to be in the volunteer's classes gain considerably from this contact.
Meanwhile, Link Ethiopia is seeking applicants for next year's cohort of volunteers. If you want to find out more about this, see our very thorough website at http://linkethiopia.org/ and get in touch with [email protected].
Coming up on Television
Black Gold
An eye-opening expose of the multi-billion dollar coffee industry, tracing one Ethiopian man's fight for a fair price.
Tue 26th Feb & Sat 1st March (More4)
$100 Taxi Ride
Interesting goings-on around Ethiopia
Fri 7th & Sat 8th March (Travel Channel)
The Nile – The Great Flood
Life in the Ethiopian Highlands
Sat 15th & Sun 16th Mar (UKTV History)
Tribe – Suri
The self-sufficient and amazing Suri tribe
Thu 20th March (UKTV Documentary)
Proverb of the Month
" By persevering the egg walks on legs "
Website Link of the Month
Black Gold – learn more about the coffee industry in Ethiopia and how much of your money reaches the coffee farmers. www.blackgoldmovie.com
and, of course, our own colourful website at www.linkethiopia.org
Help us?
As always, if anyone reading this would like to offer us expertise, knowledge and help with our work or if you would like to associate yourself with one of our school projects (classrooms, water, toilets, books, etc) then please get in touch. You can donate via the following link, or by contacting us – details at the bottom of this email.