Hello everyone!
As you read this news update for March, several members of the Link Ethiopia team are planning and getting ready for one of their regular visits to Ethiopia. As more and more schools join the family and make relationships with Ethiopian schools, so the team have more and more tasks to fit into the weeks of their visits. Not only will they be visiting already linked schools, checking on the gap volunteers and their welfare, and saying hello to some of the individually sponsored children, but they will also be visiting projects in all their stages of development to ensure that all are on course and going to plan.
And for the news, do read on…
News from Ethiopia
Two of Ethiopia's great long distance runners, Kenenisa Bekele and Tirunesh Dibaba, will be in the UK at the end of March. They will visit Edinburgh in Scotland to lead a very strong team of Ethiopian athletes at the World Cross Country Championships on the 30th March. They will undoubtedly be well worth watching – and they will also undoubtedly experience rather cooler temperatures than in their homeland for their run!
Meanwhile, March also sees the Ethiopian premiere of Nick and Marc Francis' "Black Gold", recently shown on UK television, when it is one of the much awaited films to be shown in the Addis Ababa Film Festival. Nick himself will be there in Addis at that time. For those who have not yet been able to see it, do pay a visit to http://www.blackgoldmovie.com/ where screenings all over the world are clearly listed.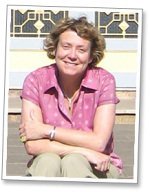 Meet the Team: Jane Blues
Jane Blues is the volunteer who coordinates our colourful news emails, ensuring you receive them each month! Her two sons, Richard and Chris, have both been enthusiastic visitors to Ethiopia on separate school trips in the past, and Jane had the opportunity to accompany the team to Ethiopia last April. We are delighted to have her input to our work.
Football in Ethiopia – the beautiful game
As in so many other countries of the world, football is the King of Sports in Ethiopia. It is loved with a passion that is rarely matched in any other area of existence, especially by the young males in every Ethiopian town. A tourist travelling around the country would need to be well-versed in the details of each UK Premier League football team to have any chance of maintaining a meaningful conversation on the subject of this sport. They know the players, they know their current reputations and they certainly know whom they support.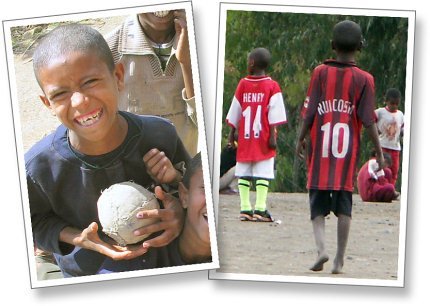 Football shirts are seen everywhere, often obtained from large piles of second-hand clothing on sale in the marketplaces and worn with great pride. Although facilities for playing football are rarely sophisticated in any Ethiopian town outside of Addis Ababa, nevertheless the youngsters are undaunted in their involvement. Walk into a town or village and kids of all ages can be seen with improvised footballs made of socks and rags which they kick about with vast energy and enthusiasm. Link Ethiopia is one of the Score Ethiopia partners working to improve football facilities in the town of Lalibela – find out more here: https://fcbstudios.com/work/view/score-ethiopia
School Link focus
The link between Warrender Primary School (in Ruislip, London) and Kola Diba Elementary School (an hour's drive from Gondar) has got off to a very exciting start!
All students at Warrender have just enjoyed 'Africa Week', to raise awareness and understanding of Africa throughout the school. Included in the events was fascinating entertainment from Ghanaian drummers and Nigerian storytellers, and an exhibition in the school hall of beautiful pieces of artwork that the students had created. The week ended with 'Ethiopia Day', during which all students in the school – from the age of 3 upwards! – presented what they had learnt or worked on during the week to their very proud parents and teachers. All students came dressed in the colours of the Ethiopian flag, and among the highlights were students reciting Amharic words, showing their handmade Ethiopian flags and masks, and singing African songs.
Money raised during the week will go towards improving the very basic science facilities for the students at Kola Diba, which is additionally benefiting from money raised during a Warrender cookie and cake sale at Christmas, which is helping provide better library resources.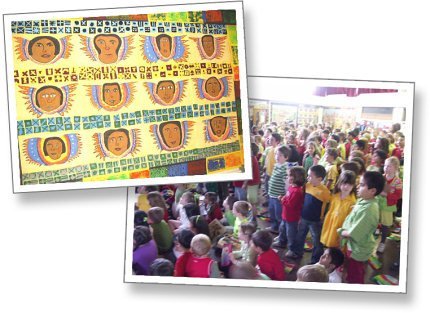 Students at Kola Diba Elementary are no less enthusiastic about learning all about life in the UK, and we are confident that via this link students and teachers in both schools will gain a deeper understanding of each others cultures.
Our Gap Ethiopia scheme
Four teaching volunteers, two from Bristol and two from Buckinghamshire, are well and truly in the swing of things out in the Gondar region of northern Ethiopia. Cassey North and Hannah Ray are working at the Fasiledes Secondary School and are the first female volunteers that the school has had. Meanwhile Will Grave and James Harmer are travelling daily to teach in the Azezo Secondary School, between the town of Gondar and its airport out in the countryside.
They are all testing out a new set of written teaching schemes as they help all members of their small groups with their English Communication Skills. They are also, of course, taking a full part in the life of the Gondar community, visiting other schools, helping in other places, and generally making the most of their still unusual and rare placements in Ethiopia. We hope that many more young people will wish to join in this scheme as we expand it over the next couple of years.
Coming up on UK Television
Globe Trekker – Ethiopia
Zany presenter Ian Wright explores
Saturday 29th March (Travel Channel)
Don't forget your passport – Ethiopia
A wealth of history in a stunning African landscape
Monday 7th April – late night (Travel Channel)
Wild Africa – Mountains
Gelada baboons and Ethiopian wolves
Monday 28th April – four showings (Travel Channel)
Ethiopian Proverb of the Month
" It is foolhardy to climb two trees at once just because one has two feet "
English Proverb of the Month
" Fair words fill not the belly "
Website Link of the Month
Imperial Ethiopia – it's culture and traditions www.imperialethiopia.org
and, of course, our own colourful website at www.linkethiopia.org
Help us?
As always, if anyone reading this would like to offer us expertise, knowledge and help with our work or if you would like to associate yourself with one of our school projects (classrooms, water, toilets, books, etc) then please get in touch. You can donate via the following link, or by contacting us – details at the bottom of this email.