Welcome to the July news update!
With our schools now enjoying a restful holiday period we at Link Ethiopia have been hard at work both in the UK and in Ethiopia expanding our Child Sponsorship programme and extending the scope of our Gap Ethiopia volunteering scheme. Our thanks go to the part-time volunteers who have been helping us in the London office and who have made a great deal of difference! Look out for next month's news update where we will be discussing our volunteer teaching scheme.
We are delighted and honoured to have recently received the approbation of the authorities in Gondar city who presented Link Ethiopia with an award for having furthered the cause of education in its schools. We look forward to continuing to work alongside the local and regional education departments in coming years.
So let's get on with the job – here is our news update, this month focusing on our school linking scheme. Read on…
Focus on… School Linking
A link between two schools provides an opportunity for both sets of students to learn about a very different culture. This is achieved through regular letter writing, curriculum based activities and maybe even a visit by teachers and older students. The Ethiopian partner school also benefits from regular (but manageable!) fundraising towards a project that they have identified as being particularly important, for example books for their library or new water facilities.
Our oldest school link – between Dr Challoner's School and Fasiledes School – dates back 12 years. However, this month we will be exploring the very successful link between Backwell School in Bristol, UK, and Angareb School in Gondar, Ethiopia, which started in 2006. If you would like to get your school involved in one of our school partnerships, contact Chris ([email protected]) for more information.
Learning through linking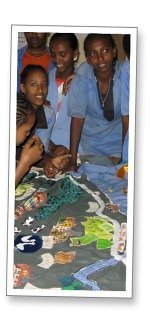 Letter exchange is central to all our school links. Twice a year bundles of letters flow between Backwell and Angareb schools which provide their pupils with a very personal insight into another culture.
Students also develop teaching and learning materials for their link school to display and use in lessons. At Backwell, students produced both written and video accounts focusing on their own daily lives, and life at their school. These were recently taken to Ethiopia and met with fascination! Students in both countries have also worked hard to create fabric maps of their local area, which again were transferred between the schools in order to facilitate discussion about the differences and similarities in local environment and way of life.
Exchange visits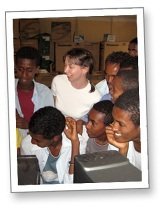 Two teachers from Backwell visited Angareb in March this year. They observed lessons and were particularly impressed by the weekly student forum at Angareb, in which matters important to the student body are debated. After teaching a lesson based around life in the UK, the teachers had a truly unforgettable experience when one of the Ethiopian students walked them across a river to his grandparent's tukul (mud and straw hut), where everyone shared a meal.
They also visited Hannah and Cassey, the two gap-year students from Backwell who did a superb job teaching English communication skills at Fasiledes School as part of our volunteer scheme. The visit has enabled the teachers to write specific lessons that fit into their schemes of work, as well as providing a fascinating first hand insight into another culture. Perhaps students will be able to experience similar cultural exchange visits in the future, like those at several of our other secondary schools
Fundraising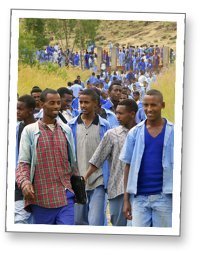 As part of their current project to help fund a new toilet block at Angereb, Backwell are running a 'Blue-Peter' style 'Spend a Penny' campaign, which involves making a small contribution to use the toilet at reception.
In March the school held an Ethiopian evening in which parents contributed 'promises' and then auctioned them, followed by indulging in some very tasty traditional Ethiopian food. Not only was this a fun evening, but it also helped to raise the profile of the link in the wider community. Previously, Backwell have raised money to fund an internet connection and other IT equipment at Angereb School, which will open up a new range of communication possibilities between students and enhance their link even further.
How to get involved
If you are interested in starting up a school link with Ethiopia please get in contact with Chris ([email protected]), who can provide you with more information. It would be really helpful if you could include some basic information about your school (location, pupil ages, size etc). Thank you!
And finally…
A big thank you to two Link Coordinators who have been really committed to developing their school links. Katie Summers, at Elangeni School, is off to teach English at an international school in Thailand, whilst Anita Lawrie is retiring after 13 years at Whiteheath School. We wish both of them the best of luck, and we look forward to working with the new Link Coordinators at both of these schools!
News from Ethiopia
DFID has announced a doubling of its food aid budget to Ethiopia, bringing the fund to £20 million to help alleviate the prospect of famine for some 4.5 million Ethiopians in drought-ridden areas. The 300% price rise in some basic food stuffs has worsened the situation.
The UN and the African Development Bank report that the economy of Ethiopia is forecasted to expand by 7.5% this year and another 7.4% in 2009 in response to the positive growth in the country's industry, agriculture and service sectors. The two most productive areas of export at the moment are firstly coffee beans and secondly oil seeds.
Meet the Team: Melaku Getachew
Melaku Getachew is an Ethiopian lawyer of great repute here in the UK and one of the trustees of Link Ethiopia. He has a wonderful family with a lovely wife and four charismatic children and they all live out in the country to the west of London. He is our main man when it comes to making contact with the Ethiopian authorities, whether it be the Ministry of Education in Addis or the Ethiopian Embassy in London.
Culture spot: Religion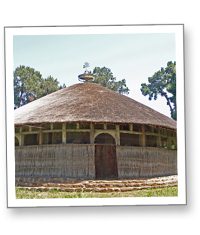 In a country as large and diverse as Ethiopia, it is not easy to give very accurate statistics when it comes to religious belief and affiliation. Certain areas, especially in the Amhara region of the country, have clearly a preponderance of Christian belief, with the typically circular churches being seen wherever a community has its centre. The Ethiopian Orthodox religion was founded in the 3rd century and, as such, is one of the oldest Christian cultures in the world.
But in other areas, especially where the Oromo people predominate and elsewhere, Islam is the dominant belief, with colourful and elegant mosques clearly visible and often audible. And it is certainly worth stating here that both religions occur throughout the country, existing side by side with acceptance, tolerance and genuine good nature. Yet less structured belief systems are also very common, especially amid the many and varied tribes in the south of the country. Here it is often the trees, the animals and the countryside itself that provides the awe and the treasured focus of the community.
Coming up on UK Television
$100 Taxi Ride – Ethiopia
Interesting goings-on around Ethiopia
Saturday 9th August (Travel Channel)
Pole to Pole – Crossing the line
Michael Palin in a troubled 1990's Ethiopia
Friday 22nd August (UKTV Documentary)
Long way down – Egypt and Ethiopia
Ewan McGregor and friend journey through Africa
Monday 25th August & five days later (National Geographic)
Ethiopian proverb
" The same water never runs into the same river "
English proverb
" A man that breaks his word bids others to be false to him "
Website link
Lots of facts on Ethiopia in a compact article www.linkethiopia.org/link/3
and, of course, our own colourful website at www.linkethiopia.org
Help us?
As always, if anyone reading this would like to offer us expertise, knowledge and help with our work or if you would like to associate yourself with one of our school projects (classrooms, water, toilets, books, etc) then please get in touch. You can donate via the following link, or by contacting us – details at the bottom of this email.