Welcome to the August news update!
Hello everybody, and welcome to the August 2008 news update from Link Ethiopia.
Our schools are on holiday and enjoying some well-earned rest but we want to keep you up to date on our activities so this update will focus on our Gap Volunteer Scheme and tell you about some of the latest developments. This is an area of our work that is receiving a great deal of attention at the moment and the scheme benefits our schools in Ethiopia in a considerable way. Read on …
Focus on… Volunteer Teaching
Our volunteer scheme started some 12 years ago in response to our partner schools in Ethiopia needing native English speakers to help with English language tutition. Link Ethiopia was able to place volunteers within our partner Ethiopian schools and organise tutition focussing on communication skills. This support has continued ever since and remains crucial (see below).
Our volunteer programmes have expanded at the same time and you can read about some of our current activities in this section. Our partner schools always have more demand for volunteers than we have individuals ready to go. If you would like to get involved please do contact us to find out more (email [email protected]).
English teaching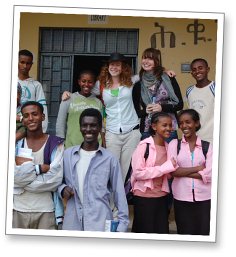 The cornerstone of our volunteer scheme is English teaching. A good grasp of English is essential for Ethiopian young people because from the end of elementary school all lessons are taught in the language. This can be a challenge since before that time lessons are taught in the local mother-tongue with is Amharic in the areas we currently work.
Volunteers focus their teaching on English communication skills and these lessons support and encourage students to use their considerable grammar and vocabulary from formal studies with confidence and clarity.
The programme concentrates on pronunciation, role play exercises and activities to apply the English language to a variety of different situations.
Direct communication with a native English speaker is rare for Ethiopian students so by communicating with our volunteers in a relaxed classroom environment, with small class sizes, pupils can really put their skills into practice.
Computer training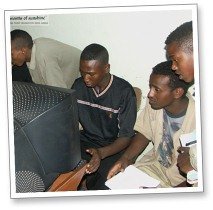 Through Link Ethiopia resourcing and other support many local schools now have a small selection of computers for staff and students to use. Unfortunately however, in many cases, there isn't a sufficient knowledge base within the school staff to effectively use them.
Volunteers joining our computer training programme work with both students and staff to help them develop basic IT skills. The computer tuition includes the use of the operating system, word processor, spreadsheets, internet and email. As most of the computers are second-hand our skilled volunteers help with technical glitches and ensure the computers operate well and reliably.
Sports coaching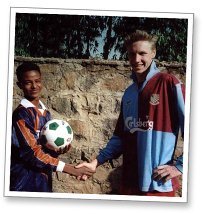 Sport in Ethiopia is a passionate affair! Many people play sports, in particular football, and even more people watch it and follow it at local, national and international level. In schools sport plays a vital part in the development of the young people's skills and abilities. Sporting activity is always welcomed but where facilities are limited the range and scope of play can restrict the number of pupils getting involved.
Our sports volunteers work alongside Ethiopian staff in schools to tutor young people in new games and activities which ensure everyone can take part. Volunteers also help with the more popular sports such as football to set up competing leagues and after school clubs.
How to get involved
If you are interested in becoming a Link Ethiopia volunteer or if you know someone else who might be keen to get involved then please do send us an email  ([email protected]). Thank you!
News from Ethiopia
Congratulations to the Ethiopian Olympic team! They proved unstoppable in the long-distance running events of the Beijing Games where Tirunesh Dibaba won the women's 10,000 metre and 5,000 metre gold medals, and Kenenisa Bekele won the men's 10,000 metre and 5,000 metre gold medals. Sileshi Sihine won the men's 10,000 metre silver medal, Tsegay Kebede won the men's marathon bronze medal and Meseret Defar won the women's 5,000 metre bronze medal. Congratulations to all the athletes who took part and we look forward to future success at the London 2012 games!
Meanwhile, Bill Clinton, ex-president of the United States, and his daughter Chelsea have been visiting communities in the highlands of Ethiopia, visiting some of the projects of his own family's charitable foundation. Quite how many of the villagers he met knew exactly who he was is not known, but wherever he and his family went, hundreds of welcoming and enthusiastic people came to see him.
Meet the Team: Jean Bailey
Jean Bailey is one of Link Ethiopia's five Trustees, overseeing the work of the organisation as a whole. She is the current Chair of the Anglo-Ethiopian Society of Great Britain, and also is the founder and Director of the Aysanew Kassa Trust that helps young people and schools in the village of Azezo in northern Ethiopia.
Geography spot: Highs and lows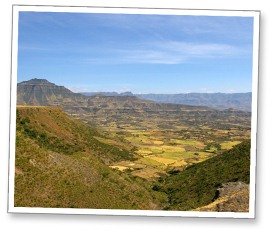 Whenever our teaching volunteers prepare for their stay in Ethiopia (as several are doing at this very moment), one of their tasks is to ensure they have all the required vaccinations up to date. However, a visit to the doctor has to take the very unusual geography of Ethiopia carefully into account.
The Gondar region of Ethiopia, where most of our volunteers are based, lies on the Historic Route on the high plateau that ranges over much of the central and northern part of the country. Addis Ababa, where their experience starts, lies at 2,400 metres above sea level, and that makes it the third highest capital city in the world. Gondar itself is at 2,200 metres.
But much of the rest of Ethiopia lies at a much lower altitude. Indeed, the Danakil Desert in the north of the Afar region is one of the lowest and hottest places on earth.
So, when planning your next trip to Ethiopia, plan carefully and be very aware of the different geographic situations that exist in the country. Trekking in the Simien Mountains will require radically different preparation from taking a stroll in Danakil country!
Coming up on UK Television
September sees repeats of the very excellent Tribe series. Learn about the Nyangatom, the Dassanech and the Suri tribes
10th – 14th September
16th – 17th September
20th September
(UKTV Documentary)
Ethiopian proverb
" Being alone is only good for going to the toilet "
English proverb
" A dwarf on a giant's shoulder sees farther of the two "
Website link
Link Ethiopia's London office is situated in a building also used by the Ethiopian Orthodox Church.  Learn more at   www.linkethiopia.org/link/4
Of course, visit our own colourful website at www.linkethiopia.org
Help us?
As always, if anyone reading this would like to offer us expertise, knowledge and help with our work or if you would like to associate yourself with one of our school projects (classrooms, water, toilets, books, etc) then please get in touch. You can donate via the following link, or by contacting us – details at the bottom of this email.