Welcome to the September news update!
Hello from Link Ethiopia to all supporters and interested parties!
We told you lots about our Volunteering Scheme in the last News Update, and we hope you enjoyed reading it. In this September edition we want to tell you about recent progress with some of the school classroom projects being funded by Link Ethiopia. If you would like to get involved financially in what we are doing here, do get in touch. Every bit of help is significant in the great scheme of things!  Onwards…
Calling football supporters!
Visit our eBay auction and bid for any of six remaining signed Premiership team shirts! Each of them have been signed by the whole football team, and collected by John Barnes as part of our Score Ethiopia initiative. Still available are shirts from Chelsea, West Ham, Arsenal, Fulham and Portsmouth. Bid generously!!
http://stores.ebay.co.uk/Wash-Go-Score-Ethiopia
Focus on… Classroom Projects
We want to introduce you to another couple of rural schools that Link Ethiopia supports. You can read about some of our other projects on our website – http://linkethiopia.org/projects/index.html. We are always seeking donations to enable future projects like these and, if you think you can help, please get in contact with us or donate online (http://linkethiopia.org/donate). Email Matt at [email protected] if you can help.
Aba Entonious classroom celebration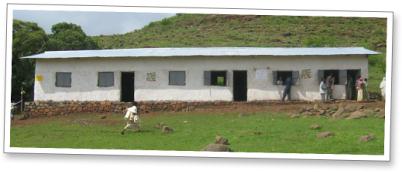 Aba Entonious is a small but growing elementary school set in rural countryside north of Gondar town in northern Ethiopia. Its catchment area is huge and every day pupils walk long distances to reach their lessons. A year ago the school had four classrooms and a temporary shelter for an additional class that had opened but over the last twelve months, thanks to St Petroc's Church in the south-west of England, we have been able to work alongside Aba Entonious school to construct three new classrooms, and here they are: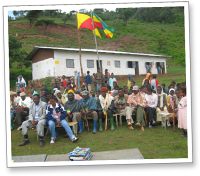 From today the school starts teaching Grade 5 pupils in two of the new classrooms and the Grade 1 class which was previously learning outside will move into the third of the new classrooms.
Lots of the local community recently joined in a ceremony to officially open the new classrooms.
Defecha classroom construction
Defecha Elementary School is situated in beautiful surroundings high above the Angereb River in northern Ethiopia. Its nearest town is Gondar which is roughly an hour away by foot. The school caters for Grades 1 to 4 after which pupils often stop their education and help their parents at home or in the fields. Some pupils walk to the next elementary school which caters for Grade 5 but space at the school is limited.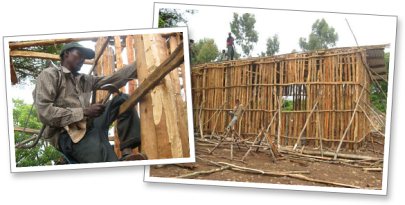 We started working with Defecha school about a year ago. The needs of the school are too numerous to list here but at the top of the list was the community's desire to expand the school into Grade 5. With some generous funding from the Padstow Rotary Club in the UK we have been able to support the school by providing the materials needed to build a Grade 5 classroom and a teacher's office. Members of the local community have been hard at work to construct their new classroom and it is due to be completed shortly.
How to get involved
If you or your group are interested in funding one of our projects, or if you know someone else who might, please get in contact with us. There are always many more projects that we would like to support than funds we have available to do so. Email Matt at [email protected] – thank you!
News from Ethiopia
The UN's top aid official, John Holmes, has just been in Ethiopia to make detailed assessments as to the severity of food shortages in the country. Ethiopia was hit with severe floods last year which destroyed most of the food crops. This year, drought has worsened the situation. Drought is especially bad for Ethiopia because farming employs more than 80 percent of Ethiopians and accounts for half of all domestic production, as well as 85 percent of exports.
At the same time, Ethiopians are celebrating the restoration and re-erection of one of the country's most significant artefacts, the great Axum Obelisk which was taken by troops in 1937 during the Italian occupation. The monument weighs more than 150 tonnes and was recently brought back from Italy in three pieces, following decades of negotiations between the Italian and Ethiopian governments, and long delays in transporting the heavy stones from Rome. The monument is now back in its original home.
Meet the Team: Chris Clare
Chris Clare is Deputy Head of Dr Challoner's Grammar School in Amersham, England where Link Ethiopia started its life nearly thirteen years ago. Chris is an enthusiastic and highly knowledgeable trustee for our organisation, and his advice is highly valued at all times.
Culture spot: The Ark of the Covenant
This month we tell one of the most important stories in Ethiopian traditional history – about the Ark of the Covenant and how it comes to be guarded in a treasury built for the purpose in Axum, in the north of the country.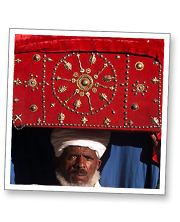 The Ark, that most powerful of objects described in great detail in the Old Testament of the Bible, is said to have been taken from King Solomon's temple and brought to Ethiopia by the first Ethiopian king, King Menelik. It resided for hundreds of years on an island monastery in Lake Tana, just south of Gondar, and then eventually found its way to the ancient city of Axum. Emperor Haile Selassie had the treasury built beside the cathedral in Axum to house and protect the Ark.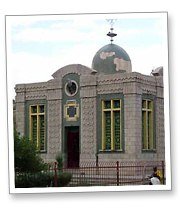 One monk guards the Ark and he never leaves the compound. No one else is allowed in, and they pass the monk's food through to him each day. No living person (apart from this monk) has ever seen the Ark, although it used to be brought out and paraded around the town in earlier times at the festival of Timkat. But it was always shrouded in thick materials – as are all the other ark copies or 'tabots' that are the centre of each Ethiopian church.
We don't have the space to tell you more here. Buy Graham Hancock's book "The Sign and the Seal" for a superbly personal investigation!
Coming up on UK Television
The Nile – The Great Flood
Life in the Ethiopian Highlands
Tuesday September 30th (UKTV Documentary)
Cliffhangers – Girl Power
The gelada baboons of the Simien Mountains
Saturday October 11th (Nat Geo Wild)
A Fork in Africa – Ethiopia
A varied and enlightening programme
Sunday October 26th (Travel Channel)
Ethiopian proverb
" Some proverbs bring a quarrel; and others finish a quarrel "
English proverb
" Birds are entangled by their feet and men by their tongues "
Website link
The site of the Ethiopian Embassy in London
www.ethioembassy.org.uk
and, of course, our own colourful website at www.linkethiopia.org
Help us?
As always, if anyone reading this would like to offer us expertise, knowledge and help with our work or if you would like to associate yourself with one of our school projects (classrooms, water, toilets, books, etc) then please get in touch. You can donate via the following link, or by contacting us – details at the bottom of this email.