Welcome to the February news update!
Hello everyone – and best wishes to you from a chilly and recently snowy UK!
This News Update will have our usual mixture of thoughts and information but the focused topic for February is our volunteering scheme. Nowadays our volunteers are of a very wide age-range and take part in all sorts of supporting activities in schools in Ethiopia. Here you will read about some of our recent volunteers and what they have managed to achieve. Perhaps you would like to join them! Read on …
Focus on… Volunteering
In this Focus on Volunteering we want to mention seven volunteers who, in the last year, got fully involved in our teaching programmes in the north of Ethiopia. Amy, Emily, Hana, Hannah, Cassey, James and Will all made wonderful contributions to the work of Link Ethiopia while they were there and we are delighted to say that they all had a fantastic and fulfilling time. We look forward to their being friends of Link Ethiopia for many years to come.
Amy, Emily and Hana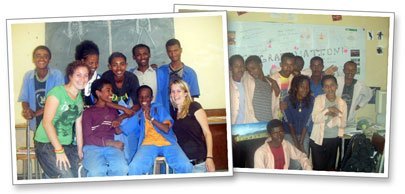 Amy, a confident and energetic young lady, was a very positive member of the Gondar community throughout her stay and seemed to enjoy the bustle and vibrancy of the town itself. "I am so happy to have participated in the gap scheme, it was fantastic!"
Emily shared her teaching with Amy for those three months and was, right from the start, very organised and competent, coping easily and well with the challenges of life in a very different community. "As regards the accommodation, it was fantastic! The location was perfect and it was very nice."
Hana was not only our first volunteer to come from the USA but also was the first volunteer of Ethiopian parentage. We were therefore delighted to have her very positive influence in Gondar and her students valued her lessons very highly indeed. "Nothing short of awesome! Belayneh and Mulugeta [our staff in Gondar] have been fabulous resources, mentors and friends."
Hannah, Cassey, James and Will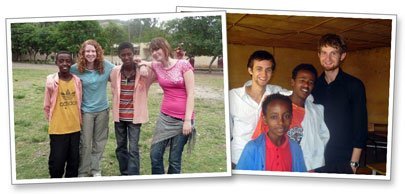 Hannah was full of energy and assertive enthusiasm in her teaching and in her time in and around Gondar. She soon got her students organised and motivated in a very real way and will surely be missed by them all. "Just a really great experience- I've loved every minute of it."
Cassey approached everything in Gondar in a really optimistic and intelligent way and there is no doubt that she was able to impart things of real lasting value to all who attended her classes. "Made some great friends and I didn't want to leave!"
James was certainly a popular and friendly member of the Gondar community throughout his stay, involving himself fully not only in the teaching but also in a considerable way outside of school hours. "The training we received was effective in inspiring confidence and giving us an idea of structuring our lessons."
Will, who partnered James and co-taught with him, not only showed himself to be a very competent and aware teacher but a very sympathetic and supportive companion to all his students. "From this experience I gained patience and confidence, learned a new language, experienced a different culture, and made new friends."
How to get involved
Link Ethiopia has recently been in consultation with numerous schools in Ethiopia and is hoping for a real expansion of its volunteering scheme. With placements of varying lengths of time to suit the individual need, a much wider range of areas of involvement for volunteers to take part in, and no restrictions being placed on the age of the volunteers signing up, we hope that many more people will take advantage of this experience and give themselves a time in their lives which could be truly life-changing. Email Chris at [email protected] for more information.
News from Ethiopia
Many Ethiopian farmers have for the first time become owners of their own new private insurance firm, the Oromia Insurance Company. The new company has been under formation since February 2008 and has now joined the insurance industry of Ethiopia with a considerable financial base. "The distinctive feature of the Oromia Insurance Company is that millions of farmers in the Oromisa region have become shareholders through their cooperative unions," said Mitiku Abdissa.
A motorbike ambulance donated by the NHS in Wales has helped to save the life of an Ethiopian mother. The ambulance, specially designed to cope with the poor road infrastructure in the rural heartland of southern Ethiopia, was donated by the members of the Gwent Health Link. Eighteen year old Shemsia was having a difficult time at home with her first birth and her family had heard of the recent arrival of the motorbike ambulance in Alaba health centre. They telephoned in the middle of the night and the motorbike ambulance was sent out to Chobare where Shemsia lives. She gave birth in the health centre later that evening, with help from a trained midwife, to a baby girl weighing 3kg.
Meet the Team: James Birch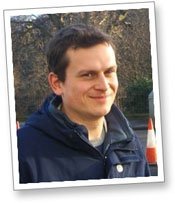 James Birch has joined us recently to spearhead the development of our Child Sponsorship scheme. He is one of our past Gap Volunteers, having taught in the Fasiledes School in Gondar in 2000. We get the advantage of his commitment and expertise on the days when his Parliamentary work allows!
Culture spot: Food

These days, in Ethiopia, there is a wide range of tasty food options in town cafes and restaurants. But traditional Ethiopian food is the still popular (and often unchanging) basis for a family's normal meals.
Meal times in Ethiopia are very social occasions. A large single plate of food is prepared with a huge sour pancake called injera as its base. On top of this are placed various wats or stews according to availability. There might be various mixtures of vegetables from the garden – potatoes, onions, carrots, cabbage and a sort of spinach called gomen. Very popular is a dish called shiro wat made from chickpeas and mixed spices, while a more celebrational meal will perhaps include little pieces of roast lamb called t'ibs or even the national chicken dish called doro wat, served in a very spicy sauce along with a hard-boiled egg.
The men of the family tend to be served first, sharing the large plateful of food. After that the ladies join in, followed by the children. Visitors and special friends sometimes receive food directly from the hand of their host, a great honour in Ethiopian culture. This is called gursha.
Coming up on UK Television
Saving Planet Earth – Saving wolves
Graham Norton in the Simien Mountains
Wednesday March 11th (Eden)
The Nile – The Great Flood
Life in the Ethiopian Highlands
Tuesday March 24th (Eden)
Wild Africa – Mountains
Gelada baboons and Ethiopian wolves
Tuesday March 31st (Eden)
Ethiopian proverb
" The person who is cruel dies twice "
English proverb
" If a man deceive me once, shame on him. But if he deceive me twice, shame on me "
Website link
The latest news on health issues in Ethiopia at www.who.int/countries/eth/en/
and, of course, our own colourful website at www.linkethiopia.org
Help us?
As always, if anyone reading this would like to offer us expertise, knowledge and help with our work or if you would like to associate yourself with one of our school projects (classrooms, water, toilets, books, etc) then please get in touch. You can donate via the following link, or by contacting us – details at the bottom of this email.