Welcome to our July 2009 news update
There are all sorts of ways in which individual people are helping with the work of Link Ethiopia – and every personal effort allows us to support more young people in more Ethiopian schools. In this edition you can read just a little about the activities of some of these people. Perhaps these ideas may inspire you or your friends to help just a little too. As the Ethiopian proverb says – "Little by little an egg grows legs and walks" Think about it!
Sailing around Britain – Please support Chris!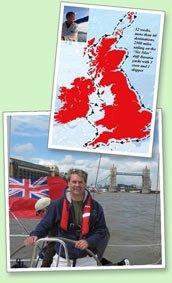 One of our more energetic supporters, Chris Veys, is currently at sea, sailing around the whole of Great Britain to raise funds for Link Ethiopia. This amazing challenge will take three months to complete and will take him to over 60 destinations, covering 2,500 miles.
Will you consider sponsoring his incredible efforts? All funds will support Link Ethiopia's work supporting education in Ethiopia. Please get involved. Visit:
Focus on… Volunteering
Here we want to tell you a little about our volunteering scheme, but first let us introduce you to two volunteers who have recently returned from Ethiopia. If you would like to follow in their footsteps and work with students in this amazing country, please visit our website http://linkethiopia.org/get-involved/volunteer/volunteer-in-ethiopia/ or contact us for more information ([email protected]).
Volunteers return from teaching in Ethiopia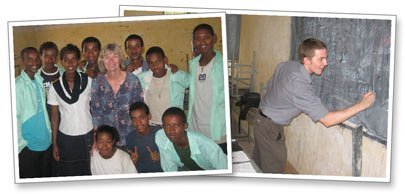 Caroline Hunt and Jon Roberts have just returned from their recent volunteering experience in Ethiopia. Caroline spent two months and Jon spent six weeks living in Gondar, a bustling town in northern Ethiopia, and working in our linked schools in and around the town.
Caroline spent her school time at Edeget Feleg Secondary, a large school in the market area of town. She taught English communication skills and also touched on drama and poetry. She said "I loved my pupils and wish I could have taught them more. They often came back for the second same lesson in the afternoons. I hope that especially those shy girls become doctors or architects and keep speaking with strong voices."
Meanwhile Jon was based at Fasiledes Secondary School, teaching English to Grade 9 students as well as carrying out check-ups on the computing equipment at some of our linked schools. Link Ethiopia has helped several schools with their IT facilities over the past few years but there is still a lot that needs to be done to improve their infrastructure to a satisfactory level. Jon's assessment of the facilities and his recommendations for improvements have been invaluable in guiding us in this area. Back in the classroom, when there were exam periods, he was also able to give students one-to-one lessons to help them with their end-of-year revision and exam preparation.
Both Jon and Caroline made a wonderful contribution to the communities they worked in during their stay and they will be much missed. We look forward to them being friends of Link Ethiopia for many years to come.
Volunteering with Link Ethiopia
Are you looking for a fun and fulfilling opportunity to help young people and immerse yourself in a fascinating culture? Gap Ethiopia is one of the best value volunteering schemes around. We work alongside dozens of schools that would really benefit from a volunteer teaching English, IT skills or Sports Coaching. Volunteering is an amazing way to explore Ethiopia and make a difference.
We offer flexible placements of a minimum of one month and placements can begin at any time. Our scheme has been running for over ten years and we will support you every step of the way with training and advice. Volunteering with Gap Ethiopia starts at just £570 for a one month placement and is sure to be the experience of a life time.
If you or someone you know might be interested, please visit our website http://linkethiopia.org/get-involved/volunteer/volunteer-in-ethiopia/ or email [email protected] for more information.
News from Ethiopia
While we're on the subject of people helping in their own particular ways, one article of news that caught our eyes was the following: Purdue University's School of Veterinary Medicine (in the USA) celebrated its 50th anniversary by sending 19 faculty members, students and alumni to Ethiopia to assist in improving livestock production and continue its ongoing relationship with an Ethiopian veterinary school.  One of the visitors said – "Because of the lack of nutrition, animal reproduction is a luxury in Ethiopia. We saw 5-year-old heifers that had never been in heat. We really want to improve reproduction and show people they can do it too."
And, after almost a year's suspension, FIFA has just readmitted the Ethiopian Football Federation to world football after elections for a new leadership were held recently. Their dispute started in early 2008 when the Ethiopian Football Federation fired its president at a meeting that FIFA didn't recognise. A small delegation from the world football's governing body were present at the recent elections and said they were satisfied with the result.
Meet the Team: Sachin Shah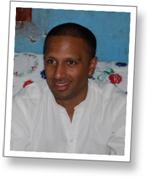 Sachin Shah is the School Links Manager in the UK, and he works with tireless energy and enthusiasm in all he does. He has taught in Azezo Secondary School and has subsequently visited Ethiopia many times, remaining full of ambition for the organisation's work.
Ethiopian money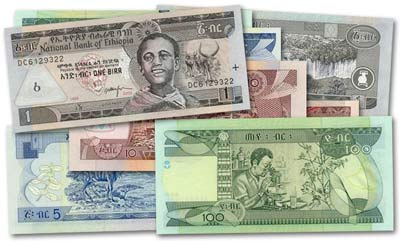 The production of suitable bank notes for any country is not only a matter of sophistication and security in its techniques, but also an important symbol for that country in terms of its international standing.
Ethiopian currency is no exception. The basic money unit in Ethiopia is the 'birr' each of which is divided into 100 cents. At the present time there are about 18 birr to the UK pound and about 11 birr to the US dollar. As prices in the country rise the smaller coins representing the 'centimes' are becoming less and less useful.
The design of the notes is very attractive and all embracing. The one-birr note shows the magnificence of the Blue Nile Falls near Bahir Dar along with some the country's colourful birdlife, while the five-birr note concentrates on Ethiopia's mammals, with a particularly fine image of the endemic Mountain Nyala.
The brown ten-birr note focuses on production, with a modern farmer ploughing his land on one side and a lady skilfully weaving a basket on the other. Fifty-birr shows us a simpler form of country farming on one side, with the iconic Gondar castles on the other. Finally, the green hundred-birr note shows a scientist concentrating on his microscope, with an Axum stela on his left.
Coming up on UK Television
Wild Africa – Mountains
Gelada baboons and Ethiopian wolves
Friday August 7th  (Eden)
Air Crash Investigation
An Ethiopian aircraft is hijacked in mid-air
Monday August 10th (National Geographic)
Ethiopian proverb
" Teeth are all friends among each other "
English proverb
" Few words the wise suffice "
Website link
The wonderful Africa Guide's pages on Ethiopia http://tinyurl.com/kw26yo
And, of course, our website… www.linkethiopia.org
Help us?
As always, if anyone reading this would like to offer us expertise, knowledge and help with our work or if you would like to associate yourself with one of our school projects (classrooms, water, toilets, books, etc) then please get in touch. You can donate via the following link, or by contacting us – details at the bottom of this email.