Greetings from Link Ethiopia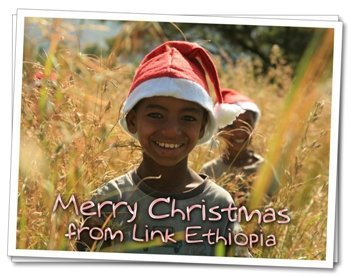 Welcome to the last Link Ethiopia news update for 2009! This is a good opportunity for us to tell you about our alternative gift website, Gift Ethiopia, which is full of fun and unusual present ideas, ideal for friends and family this Christmas.
All the gifts are needed by the children, schools and communities we serve in the north and south of Ethiopia. As a relatively small charity your support is hugely appreciated!
Do read on, and remember to visit http://linkethiopia.org/shop/
Essential gifts
Our gifts will bring a smile to the faces of your friends and family this Christmas. While at the same time they'll bring a smile to children who are eager to learn, thousands of miles away.
Thanks to your support our projects now reach over 70,000 young people throughout Ethiopia. With your help we will be able to do even more to expand quality education to youngsters in towns and rural areas through 2010 and beyond.
So now's your chance to give someone a gift that you feel passionately about; whether it relates to the importance of clean drinking water, hygienic toilets, books, or teacher training. Or perhaps you're looking for something slightly out of the ordinary… ever heard of a donkey library?!
Visit http://linkethiopia.org/shop/ to support the children and young people of this amazing country!
£5
Water taps

£20
Donkey Library
Special gift cards
For each gift you will receive a colourful and celebrational gift card explaining about the specific support you are giving, and these are posted to you 1st class so you can write a message and give it to your lucky family member or friend.
So please, visit our Gift Ethiopia website and give a special gift to a special person. It's a brilliant way to get involved!
Visit http://linkethiopia.org/shop/
Thanks for all your encouragement and support throughout the year. We are looking forward to all that 2010 will bring.
Child sponsorship

Clean water for 40 pupils

£50
Community football team

£80
Internet in a school