Welcome to our July & August 2010 news update
Summer's greetings to you all and we hope that you will not mind our bi-monthly News Update popping into your Inbox once again.
Schools are out, in both countries, and the teachers and pupils have some space not only to recharge the batteries and refresh the spirits, but also to look ahead in a less pressurised way and decide on the coming year's focuses.
In this update, Matt, our Project Director, tells you about recent projects and general progress with the resourcing of schools in our areas of Ethiopia, while you can also find here the second part of our School Linking article. But there are lots of other elements for your interest – more (sometimes puzzling) proverbs, quizzes, information on Ethiopia, etc. Read on …
Focus on… Projects
Thanks to our supporters from around the world, the past few months have been particularly busy for our projects team. There's too much to squeeze in this brief news update, but here are just a few recent highlights for your interest. Click through to our website to see some photos and read more!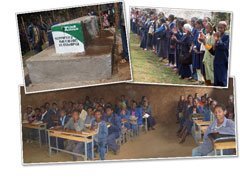 Dosha Elementary School water and furniture
Back in October we introduced you to Dosha, an elementary school in Asella, a few hours drive south of Addis Ababa. At that time we were fundraising to provide the 1,100 children at the school with a clean drinking water supply and new desks in their classrooms. Here's what happened next…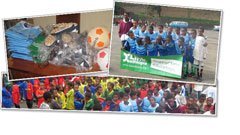 Link Ethiopia football team in the Gondar finals!
Each summer, when the schools are closed, there's a football tournament held in Gondar town. For the first time ever we have entered our own Link Ethiopia team, made up of 15 energetic under 13's from some of our link schools. So, how have they got on? Find out here!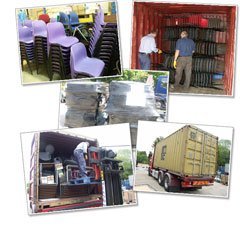 Computer and furniture shipment has arrived!
Quite some time ago we started planning for a large shipment of computers and classroom furniture to send to Ethiopia. Now, after what feels like a lifetime of logistical planning and bureaucracy, we are pleased that the computers and furniture have finally arrived! Read more here…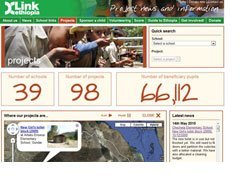 New projects website being developed
It's also been a long time in the making, but thanks to the tireless efforts of our web-genius Ali Lown we are closer than ever to launching the new projects section of our Link Ethiopia website. Find out more…
News from Ethiopia
The world's earliest illustrated Christian book has been saved by a British charity which located it at a remote Ethiopian monastery. Read more…
We always love hearing about the activities of others in their attempts to help people across the world. Here was something we spotted in the Nursing Times: Adventurous nurses and other professionals are signing up to a challenging five-day charity trek across the mountains of Ethiopia. Read on…
Meet the Team: Christoffer Widstrom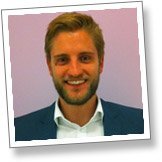 Christoffer Widstrom is a new volunteer from Sweden who has taken on the role of Volunteering Manager for us at a time when the number of volunteers going out to teach in Ethiopia is increasing very rapidly. He has made a fine start!
School Linking, the story so far
In the last News Update from Link Ethiopia you may have read about our school linking service and the basic motivation that leads schools in either country to want to find a partner and share experiences and activities.
So what do the schools actually get up to in a school link? It's one thing saying that a school on the vast African continent is partnered with your own in the UK or the US, but there has to be more to it than that.
Read more about our school linking here …
Drink!
Ethiopia is beginning to welcome a much greater number of tourists these days, all keen to appreciate the wonders of this characterful land. And one thing that they always ask is – what drinks are available?
Coming up on UK Television
Mystery Investigator – Olly Steeds
Where is the Ark of the Covenant?
Fri 20th August + 1 day later (Discovery)
Secret Holy Land – Ethiopia
Subterranean secrets!
Wed 15th September (History)
School quiz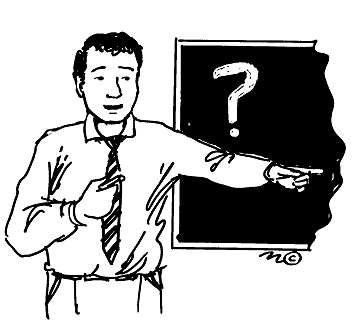 What is the name of the first ever hotel opened in Ethiopia, and why is it called that?
What is the number of the year that is just coming to an end in Ethiopia?
What is the name of the chicken dish that is considered to be the national dish of Ethiopia?
(School quiz answers: (1) The Taitu Hotel – the name of Menelik II's queen, (2) 2002, (3) doro wat)
Kids' conundrum
What 'Power of the Trinity' lasted for twenty-four years?
(Kids' conundrum answer: Haile Selassie, the Emperor who ruled Ethiopia for twenty-four years. His name means 'Power of the Trinity'.)
Ethiopian proverb
" A fool at forty is a fool indeed "
English proverb
" A crown is no cure for a headache "
Website link
Study the maps of Ethiopia this month at http://bit.ly/9YjCGn
… and of course, www.linkethiopia.org
Help us?
As always, if anyone reading this would like to offer us expertise, knowledge and help with our work or if you would like to associate yourself with one of our school projects (classrooms, water, toilets, books, etc) then please get in touch. You can donate via the following link, or by contacting us – details below.