March to June 2011 News Update
Greetings to you all from a very energetic and vitalised Link Ethiopia!
In this double edition News Update we'd like to introduce you to the new members of our growing Ethiopian team, show you our new office in Gondar, share some recent sponsorship related stories, as well as bring you a selection of Ethiopian news items and information.
There is so much to tell you – just a little of that follows now. Enjoy reading!
Our growing Ethiopian team
We are very pleased to introduce two new members of our Ethiopian team, Mulugeta Birhane and Habtamu Dereje who are managing our projects work and school linking activities from our Gondar and Bishoftu (Debre Zeit) offices respectively. We are also really pleased to introduce Shree Mandke who has relocated from the UK to join our Ethiopian team for 6 months to help develop our our projects work and help our teams prepare for the future growth of the charity. Meet all the current team and see our new Gondar office here…
Meeting your sponsored child
If you have wondered about visiting your sponsored child, or would like to discover the country your sponsored child lives in, we can very happily arrange for you to meet your sponsored child, visit their school, and see how your sponsorship is helping. One of our sponsors, Joy, recently did just that. She explains the experience much better than we could…
News from Ethiopia
Ethiopia has, at this moment, only one railway, stretching from Lagare in Addis Ababa to Djibouti. But this has fallen into disuse in recent years and the Ethiopian Government is very much considering the building of new railways in order to improve the country's transportation infrastructure. Read more…
More countries are recognising Ethiopia's coffee specialities. The Ethiopian Intellectual Property Office (EIPO) says four of Ethiopia's coffee specialities have been registered in 26 countries as a trademark. Read on…
Meet the Team: Gemma Williams
We are delighted to introduce our most recent member of staff, Gemma Williams. Gemma joined our London team in February and now works part-time to manage our child sponsorship and projects work. She brings with her a fantastic variety of charity experience and has already had a hugely positive impact on everything we are doing. Welcome, Gemma!
Students from Dubai visit Keta Elementary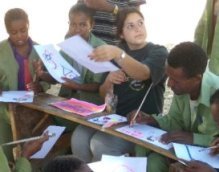 Teacher Genna and a group of students from the Universal American School, Dubai, visited Keta Elementary School on a World Challenge project. The visit was a real success and saw the students teaching music and origami, playing and exploring and digging the foundations for a library. Read on…
Bahir Dar
Bahir Dar is one of the most visited towns in Ethiopia. Nothing more than a sleepy waterside village in the early part of the twentieth century, it later came to the notice of Emperor Haile Selassie because of its stunning position on the southern banks of Lake Tana and its relatively central situation in the northern part of the country. He had a palace built nearby and he even considered making it the site of a new capital city for Ethiopia. Find out more…
Ethiopia on UK TV
An African Journey with Jonathan Dimbleby – An emotional return to Ethiopia –
Wednesday June 22nd (Eden)
Lost Mines of King Solomon – A true adventure of discovery –
Tuesday June 28th (National Geographic)
School quiz
What is the name of the great English historian in Ethiopia whose grandmother was probably the most famous fighter for women's rights in the UK?
Why do Ethiopians have lunch at 6 o'clock?
Which biblical (and famous) queen might well have been Ethiopian and is traditionally the mother of the first Ethiopian king, Menelik?
(School quiz answers: (1) Professor Richard Pankhurst (who is also one of Link Ethiopia's Presidents), (2) Because their clock starts at dawn and 6 o'clock is the middle of the day!, (3) Queen of Sheba)
Kids' conundrum
In which 'tightly wrapped bundle of hay' could you find a whole lot of fascinating wildlife?
(Kids' conundrum answer: Bale – (1) a bale of hay on a farm (2) the Bale national park in Ethiopia)
Ethiopian proverb
" The cattle are as good as the pasture in which they graze "
English proverb
" Hide nothing from thy minister, physician and lawyer "
Websites
Educate Ethiopia is an NGO doing good work in the north of the country. You can learn more about its activities at www.educateethiopia.com
… and of course, remember, www.linkethiopia.org
Help us?
As always, if anyone reading this would like to offer us expertise, knowledge and help with our work or if you would like to associate yourself with one of our school projects (classrooms, water, toilets, books, etc) then please get in touch. You can donate via the following link, or by contacting us – details below.