Greetings!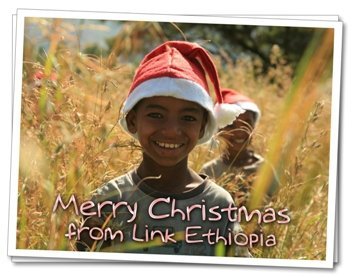 We want to wish everyone a very happy Christmas and new year. 2011 has been Link Ethiopia's most successful year to date, thanks to your support, and we are thoroughly looking forward to what 2012 brings.
We are pleased to announce that our 2012 calendars are on sale now. Details are below. Get them while stocks last!
There is also still time to order your fun and unusual Christmas gifts from our Gift Ethiopia website. All the gifts are needed by the children, schools and communities we serve in Ethiopia. As always your support is hugely appreciated!
Do read on…
Link Ethiopia's 2012 Calendar
For the first time we are selling Link Ethiopia calendars. They are attractive and informative, showing a combination of historic, cultural and educational scenes from Ethiopia. They also include Ethiopian proverbs, and (alongside UK public holidays) some of the most important dates in the Ethiopian calendar.

Each calendar costs just £8 (approx 9.50 euro, $12.50) and you can see them in more detail, and make your purchase, via our website:
www.linkethiopia.org/calendars
Get them while stocks last!
Gift Ethiopia…
It's back! Our gifts will bring a smile to the faces of your friends and family this Christmas. While at the same time they'll bring a smile to children who are eager to learn, thousands of miles away.
Thanks to your support our projects now reach over 100,000 young people throughout Ethiopia. With your help we will be able to do even more to expand quality education to youngsters in towns and rural areas through 2012 and beyond.
So now's your chance to give someone a gift that you feel passionately about; whether it relates to the importance of clean drinking water, hygienic toilets, books, or teacher training. Or perhaps you're looking for something slightly out of the ordinary… like supporting our donkey library!
Visit www.giftethiopia.org to support the children and young people of this amazing country.
… with special gift cards
For each gift you will receive a colourful and celebrational gift card explaining about the specific support you are giving, and these are posted to you 1st class so you can write messages and give them to your lucky family members or friends.
So please, visit our Gift Ethiopia website and give a special gift to a special person. It's a brilliant way to support our work.
Visit www.giftethiopia.org
Thanks for all your encouragement and support throughout the year. We are looking forward to all that 2012 will bring.