On Friday two members of staff and six students from Impington College, near Cambridge travelled to Ethiopia to spend a week with visiting their link school, Bishoftu Preparatory. A day into their trip we asked both the students and staff to share some of their thoughts about the visit so far, about why they went and what they thought of the experience. Below is a summary of some of their comments.
Many of the students were motivated to visit by the fact they believed their visit could make a difference, both to themselves and the school they were visiting but one student in particular also saw it as an interesting opportunity to experience a new language and culture:
'I was excited at the prospect of learning new languages and knew that I would have the opportunity to learn Amharic.' Ellen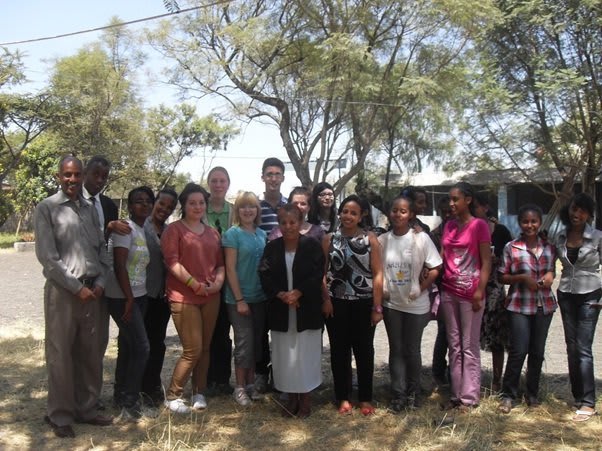 The students commented on the fact they were privileged to be experiencing new things and see first hand some of the things they've learnt about in school or from documentaries – this trip was much more than a holiday to them- it was a clear learning experience:
'First, I feel that I am learning a lot about myself through visiting a developing country when I come from a richer country and secondly, it has made me think about global issues in a way that I had not had to before.' Yvette
'I feel as though I am in a documentary that I have seen about Ethiopia and the visual images are now real and I am experiencing the people and country first-hand.' Hannah
Even in the early stages of the trip the students were able to see that could also learn a thing or two from the students in their link school. In particular they were challenged by the behaviour of the students and the respect they showed for teachers and for education itself:
'My first impression is of the Ethiopian students' pride in their school; it is impressive how they value education. Organisations like Link Ethiopia that support education make the best difference to people's lives.' Gina
'I am impressed by the respect that the Ethiopian students hold for their teachers.' Meghan
For the two teachers leading this trip it was easy to see the value of the visit for their students and for themselves:
As teachers, we are so appreciative of the warm welcome and great care that the staff and students of Bishoftu Preparatory School have made for our visit. Like our students, we feel very privileged. Visits like this offer teachers the best possible source of personal and professional development. We recognise that we are part of a global community of educators and come away refreshed and re-energised in our endeavours.
We are delighted with the way our students are dealing with encountering a new culture; none of the students have visited an African country before and, for us, it has been exciting to watch the way they have learnt through their new experiences. They have responded with cheerfulness, resourcefulness and imagination.
They are already planning their next visit and are hoping to mak
e use of the British Council Connecting Classrooms Grant to organise a reciprocal visit so that staff (and hopefully students) from Bishoftu Preparatory School will also 
be able to benefit from visiting the UK. 
If your school is also interested in organising a visit to your link school (with or without your students) please get in touch. Link Ethiopia can help you with any aspect of the visit from booking flights and accommodation to meeting your group at the airport and introducing you to staff and students at your link school. We can also support you in applying for the Connecting Classrooms Grant if that is something you would be interested in.