After hosting the lovely Christina Lynn in Bishoftu last year, it was now the turn for Ude School's Link Coordiantor Kedir Tefera to visit Priory School. Kedir just spent a fantastic week in Lewes, presenting a project the two schools had been working on over the past year and visiting new places in and around East Sussex.
Kedir was welcomed to Priory by an enthusiastic crowd of students eager to ask him questions about Ethiopia and their peers down at Ude. There he presented his school's report on the 'Water and Energy Consumption' project, which surprised many at Priory, since half of Ude's community water use goes into animal farming and energy use is curbed by the fact that many over there live in huts. Instead the local students showed how most of their water consumption goes in showers and how they should save energy by switching off electronic appliances, like TVs and game consoles, instead of leaving them in standby. This project sparked a stimulating and constructive reflection for both parties about their societies and the differences between them, which is what we admire and encourage most in our schools links.
A great experience for Kedir, who teaches chemistry at Ude, was to see the science department at Priory and participate in the experiment sessions at the school's lab, which his school is underequipped for. Thanks to Priory, however, that won't not be the case for much longer: the amazing students in Priory's Link Club have pledged to raise £7600 for a science lab at Udee where their link classmates will be able to put in practice all they learn in their textbooks. On top of this Kedir took back two suitcases full of Chemistry and English books for his students.
Kedir's week in the UK ended with a nice walking tour of Lewes, where he even got dressed up as Henry VIII. He visited Brighton, where he really appreciated eating fish and chips and especially seeing the sea for the first time in his life (he was really excited to see "sand" on Brighton beach!).
 An evening in Ethiopia
Building on the joint project on Food Culture Priory and Ude Schools had been working on, Christina organised a very successful event in collaboration with the local charity Diversity Lewes, to celebrate the link and introduce Ethiopia to their community.
The entertainment of the evening included partaking in a traditional Ethiopian coffee ceremony and the chance to sample some authentic Ethiopian food. On top of this there were also other notable exhibitions at Priory School with Ethiopian fashion displays, an African Drumming workshop and live African music, which completed the charming atmosphere of the night and gave an insightful representation of Ethiopian culture.
Finally, it was a great privilege to have the new Mayor of Lewes, Ms Ruth O'Keefe, cut the ribbon on the night, a symbol of the admirable and wide participation of the local community in this event.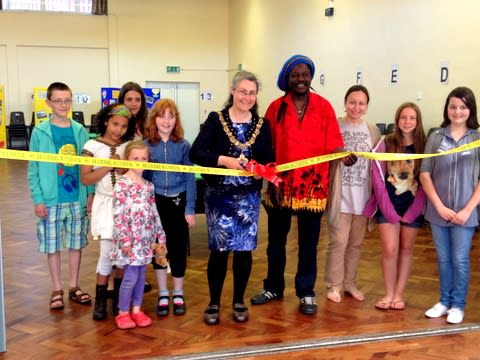 A special thank you goes to Christina for all the wonderful work she has done! She is definitely one of our model Link Coordinators and we wish her all the best as she leaves Priory School in September.