Link Ethiopia's volunteering scheme has been running for many years now and a great number of visitors have been able to engage with Ethiopian schools and their pupils over that time.
We have no restrictions on age (apart from obvious lower age limitations) and we welcome people from all walks of life – teachers, students, retired business people, etc.
This last academic year we have hosted nearly two dozen enthusiastic individual volunteers (along with a very large number of volunteer visiting groups that you can read about in our other updates), both in our northern region centring on Gondar and in our southern office area around Bishoftu (Debre Zeit).
Our volunteers have almost all taken part in some secondary teaching, supported and guided not only by our caring staff but also by copious resources and materials that have enabled and facilitated their efforts. But many have brought other skills to bear during their placements in the way of sports training, computer help (for both students and teachers), photographic techniques, teaching support and discussion, etc.
Gondar volunteers
Our Country Director, Ato Belayneh Shewaye, and our Volunteering Coordinator, Eyayaw Bayable, have welcomed a number of volunteering visitors to Gondar during this last year.
Tom Berry and Harry Page continued our wonderful association with Backwell School in Bristol by volunteering for a three-month period and maintaining good relations with the Angereb Secondary School which is linked with their own school.
At the same time, Sue Lawrence was taking on some very challenging phonics teaching in a wide range of primary schools and receiving glowing reports from both teachers and pupils. She is limbering up at this moment to spend another month there in October to further Link Ethiopia's involvement with phonics and spoken English.
We welcomed Brigitte Hekker and Caspar van Cruchten from the Netherlands – for the third time! Brigitte taught in Gondar while Caspar became our first ever teaching volunteer in Bahir Dar. And like Sue Lawrence, there are yet more return visits on the cards.
Another pair of long-term friends of Link Ethiopia, Tricia and Bob Hayne, spent a month with our Gondar staff, teaching at Edeget Feleg Secondary School and generally supporting the work that we are doing in that area. Tricia used to be king-pin in Bradt Travel Guides whose superlative Guide to Ethiopia is tucked under the arm of many a tourist.
Alan Taylor, yet another friend of Link Ethiopia and a very confident occasional resident in the Gondar area, spent four weeks with us, teaching in schools and catching up with his many friends.
And that brings us up to the present time with our Gondar volunteers. Jake Nielen and Alice Apsey, both studying at Cambridge University and involved in some serious research projects, have just arrived to spend six weeks with us in Gondar. The effectiveness of the volunteering experience and a particular focus on girls' education are areas where we hope to gain from their insights.
Bishoftu volunteers
Down in our southern region, just below the capital Addis Ababa, we have likewise had a resounding year of volunteering thanks to the efforts of Hailemariam Ayano, our Regional Manager, and Habtamu Dereje, our Volunteering Coordinator.
Steph McKean travelled from Canada and spent a very enthusiastic and active month helping small groups of keen youngsters with their English Communication Skills. She took back a wealth of fond memories with her to Ontario.
Our first ever volunteer from Egypt was Shorouk Abulmagd, whose caring and sensitive nature made a real impact in Bishoftu.
And more dynamic work was to follow with our two volunteers from the UK, Pete Belfield and Sarah Hamlin, whose three month stint with us became extended into a longer period of hugely supportive efforts in a number of areas of our work. We were particularly honoured to have Sarah with us, the granddaughter of world famous surgeon Catherine Hamlin who founded and still runs the renowned Fistula Hospital in Addis.
Next to arrive in Bishoftu was Malcolm Cartledge, a very experienced and talented photographer, who used his knowledge and enthusiasms to instruct small groups of secondary students, many of whom had never held a camera before, but who were fast learners producing some fun and creative images under his guidance.
Another star in Link Ethiopia's volunteering firmament was the Scot Calum Erskine, arriving from Dubai where he teaches sports, and who had previously done some amazing fund-raising to provide all sorts of sports kits and resources. His infectious energy was appreciated by all and he remains a valued supporter of our work.
And so we come up to date with a number of present volunteers in our southern region.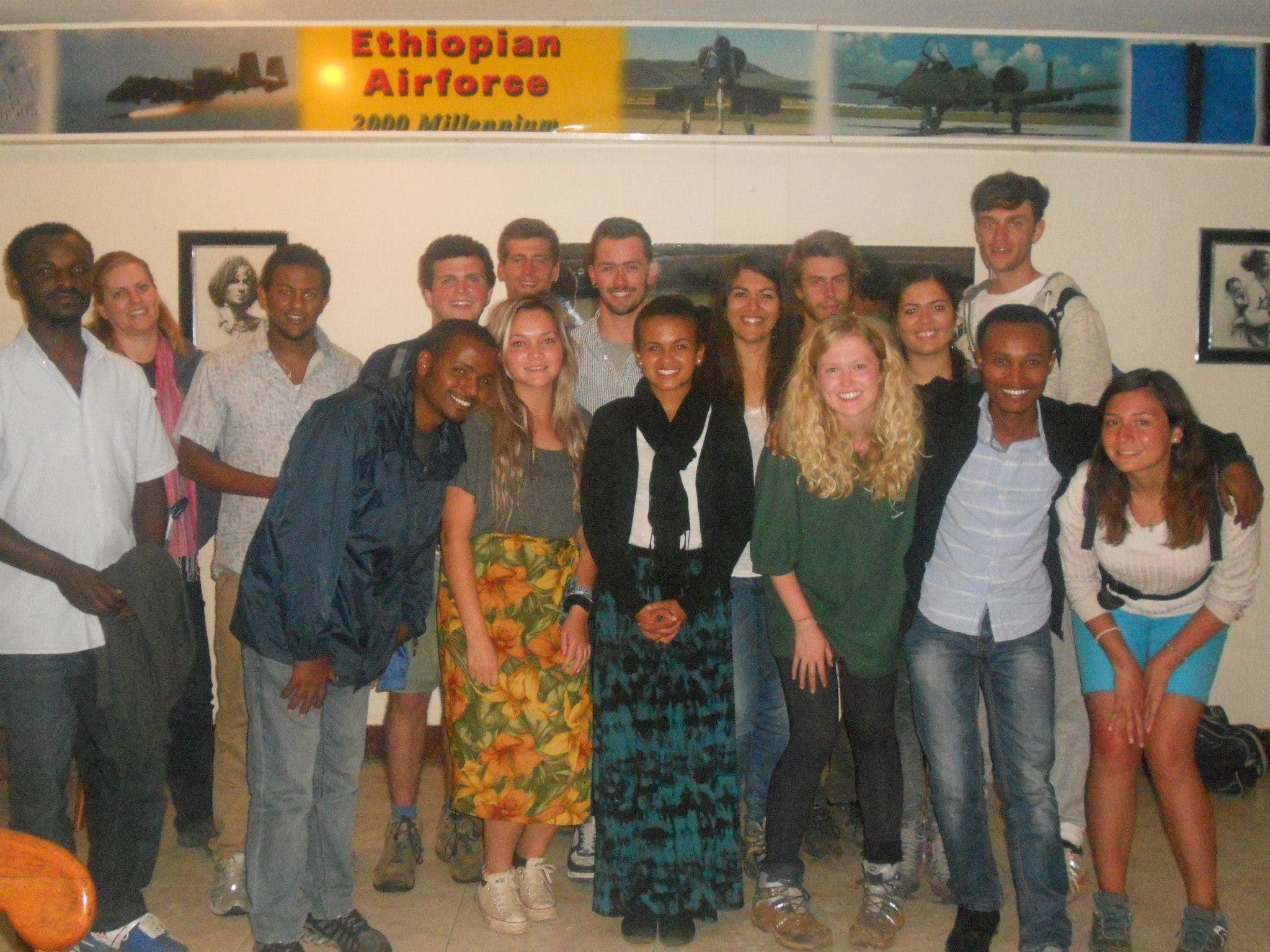 Grace Mickleburgh, from Sussex University, is just leaving Bishoftu after eleven weeks of charismatic involvement with adoring students whose English skills cannot have failed to improve during her time there. Read her own blog here.
Mark Forrest and Kathleen Martin have likewise just come to the end of their stay with our southern staff. Their enthusiastic energies again impressed all who experienced them.
Tamara Szerezla, a Hungarian teacher at present working in Oman, has been giving some very specialised help and advice to teachers in the Bishoftu area, discussing and comparing education systems in a very inspiring way.
And now, Haile and Habtamu are awaiting the arrival of three more Cambridge students, Sam Franklin, Tess Godley and Alex Logan. They are due to arrive in the next few days to carry the Link Ethiopia volunteering flag to even greater heights.
So how about getting involved with some volunteering yourself? Are you interested? You don't have to be a teacher. You don't have to have done this sort of thing before. And we shall prepare you and support you all the way. Get in touch – [email protected]