Written be Zemene
"A school World Challenge team, from Winchester College, arrived in Gondar on the 24th of July 2014 to take part in a trip of a lifetime. The group of students are part of one of Link Ethiopia's exciting expedition trips, in partnership with World Challenge, which aims to connect Secondary School students from around the world with schools and communities in Ethiopia.
The team spent a week refurbishing a classroom at Addis Alem Elementary School, and also painted two blocks to help foster a positive and colourful learning environment for the students in the coming school year.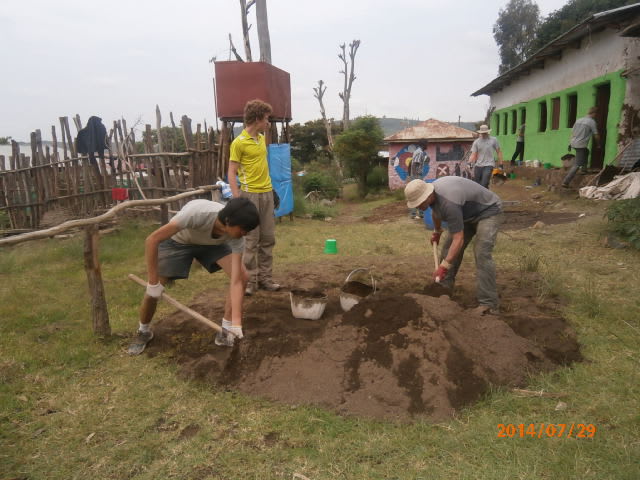 The school community welcomed the visitors by preparing a beautiful Coffee Ceremony and presenting a bunch of flowers for the group. After such a warm welcome, the students then prepared to spend the next week at the school!
From the first day, the group of school students started working on their classroom refurbishment project. Their main task was cementing the floor of one classroom – no easy task. You can take a look at the photos below for a better idea of the task and the incredible result! They also completed the project by painting the inside and outside of the building in bright and welcoming colours
They also painted the nearby classroom and two other blocks which has helped to make the school very attractive, and just in time for the new school year. It will help create a good impression with new students, and parents, and helps make the whole community proud of the school and it's achievements.
We would like to thank everyone on the team from Winchester College, and to World Challenge for making the expedition possible. It went brilliantly, and the students who took part really found the trip memorable and worthwhile.
If you'd like to know more about our school challenge expeditions, please get in touch with [email protected]."