Written by Laurence
It might seem like a simple question with an obvious answer; yes.
But across the world it's not necessarily that simple. Children surely have the right to education. But do adults? What kind of education are children and young people entitled to? Should we have to pay for education, and if so, does education still exist as a fundamental right? Or is it now a commodity like gold, corn, property or oil?
Even if we all agree that we, or at least children, have a right to education, does that mean that all children will now have that education within their grasp? Will governments and institutions rise up and sever the chains holding back girls, rural children, poor children and others? Unfortunately, when you look around the world today, even with the Right to Education enshrined under Article 28 of the UN Convention on the Rights of the Child, 58 million children around the world are still out of school.
The UNESCO graphic, which you can access via the image above, explores some of the reasons why children in a variety of circumstances struggle to access education:
Lack of access in rural areas,
More than half of boys aged 7-14 work,
Many girls work or undertake chores at home,
Poverty keeps three-times as many poor children out of school than their richer counterparts.
There is such a variety of challenges facing children in a country like Ethiopia that sometimes you marvel even at the luckier children who do have access to education – the boys who work part-time to help support their family; the girls who spend so much time looking after young siblings, cooking and cleaning; the children who walk miles every day just to get to school.
Link Ethiopia began with the question 'why education?' What is so important about education, why does it matter, and what changes does it bring to the lives of young people? Perhaps this seems like another obvious question with a clear answer. But in order for governments, institutions and people to change – to see that 58 million children out of school across the world is a disgrace – we sometimes have to bluntly show why education is so vital.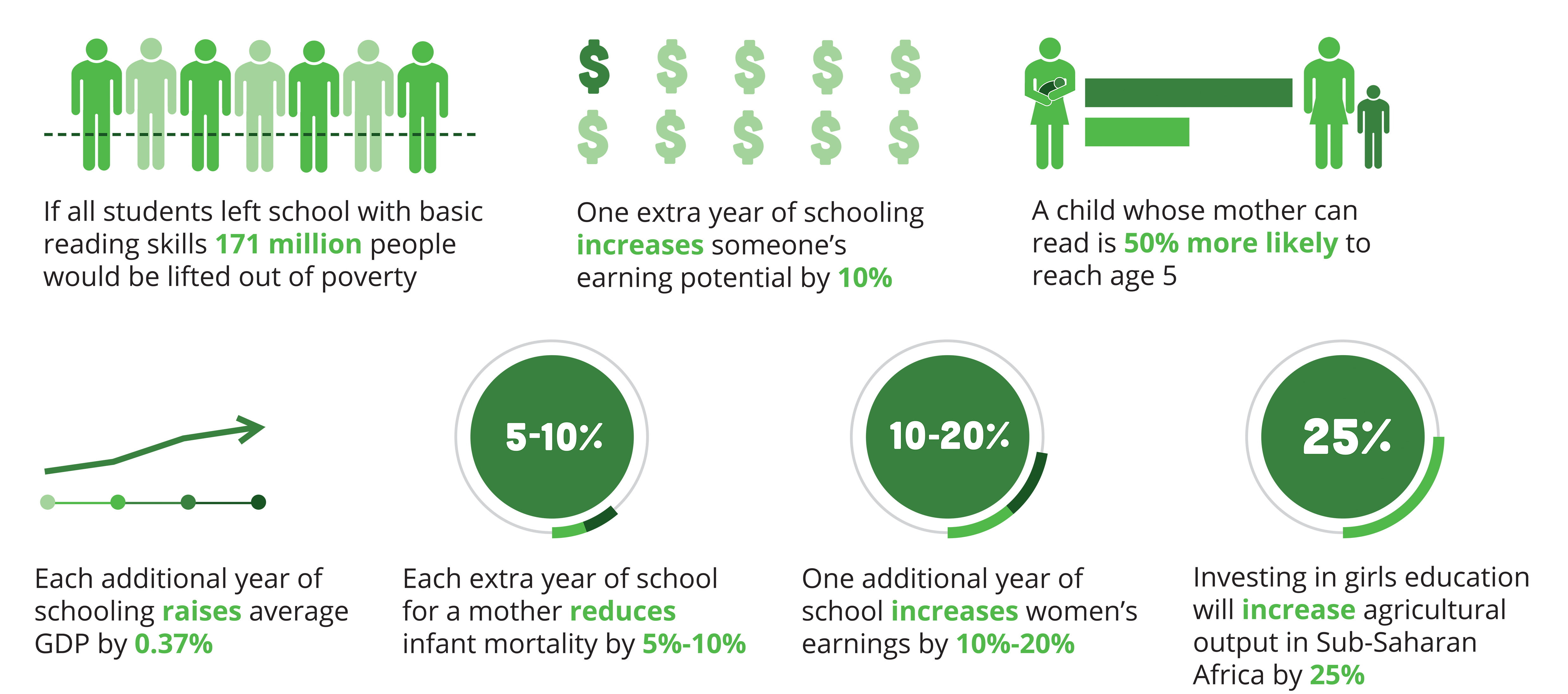 The impacts of education on an individual's – and a country's – future can be considerable. © Link Ethiopia
The above graphic attempts to do that. Things are always more complex than graphics, charts and reports can show. And many of the benefits of education are intangible and can't easily be mapped, recorded, or given a financial value. But here are some basic facts that highlight just how important education is – for health, wealth, happiness and much more besides. And I don't think anyone can argue with that.