Written by Rhi and Ama
Ethiopia is still a country of economic divides. Although there has been major progress recently, there is still an obvious gap between urban and rural areas in terms of basics such as education, sanitation and development. In the countryside, an agricultural way of life often means that time is limited, as rearing livestock and tending crops leaves little to spare. The schooling resources for rural areas are often scarce. Educational facilities are lacking, and the school buildings themselves can be old, unsafe, with poor structural integrity and reduced light and space.
As part of our rural education campaign, Link Ethiopia has been working with Girlguiding North East England and AidCamps International to rebuild schools and classrooms in the satellite developments and farming communities around Gondar. Structures that are bright, airy and welcoming are provided, as well as having more space and facilities for the children using them. This is important because with limited space, schools may not have capacity for all the children, or be able to offer education past a certain age. This means many children cannot continue in education, as the travel to the next nearest school that offers further education can simply be too much, leaving them no time to complete domestic or agricultural tasks required, let alone tackle homework. Each additional year of schooling increases a person's earning potential by 10%, meaning that the possibility of lifting an area out of poverty becomes more of an attainable goal with the correct infrastructure in place.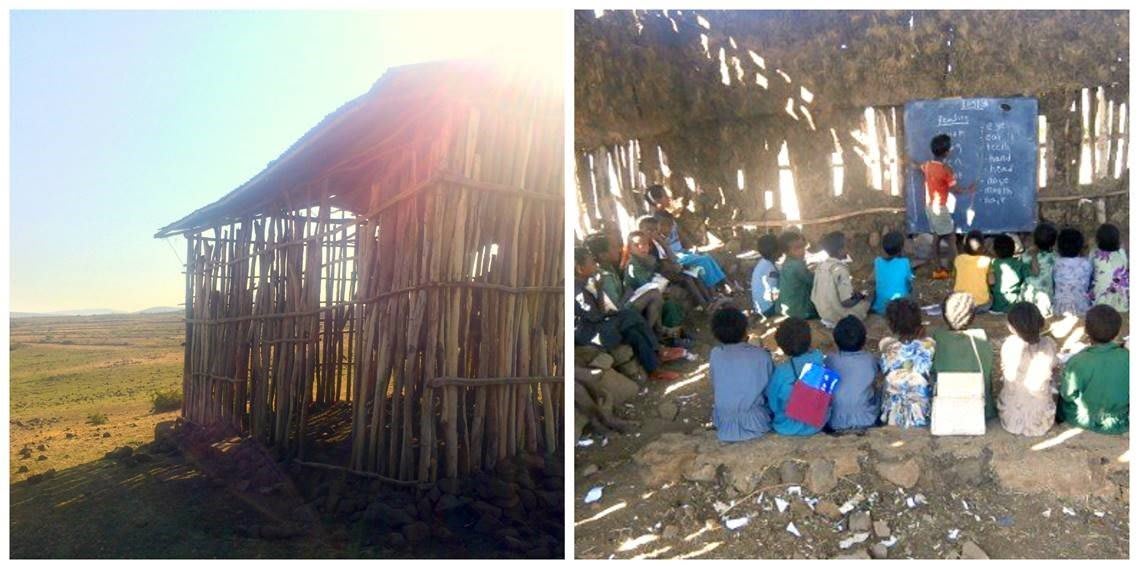 A typical classroom in a rural area
Andinet School is one of the most recent school partners in this joint partnership. The school previously had a rundown set of classrooms, with lumpy stone floors, poor roofing, and unplastered walls. Originally built from traditional wood and mud, one in particular had fallen into a state of disrepair and was no longer serviceable as a building. Providing little shelter from the elements, the classroom was a difficult environment for young children to be in. As a small space, access was restricted and some of the children could not progress to higher grades.
Link Ethiopia worked with the local community to discuss what they needed out of a new school building. A double classroom was planned, allowing children the space and security they need to continue their education. We had worked with a volunteer architect on previous school projects, and the structural changes she had suggested to improve the life of the classrooms were also implemented here. This included plastering the mud and wood, metal shutters for security at night and use of a wooden cross beam to prevent lean on the building.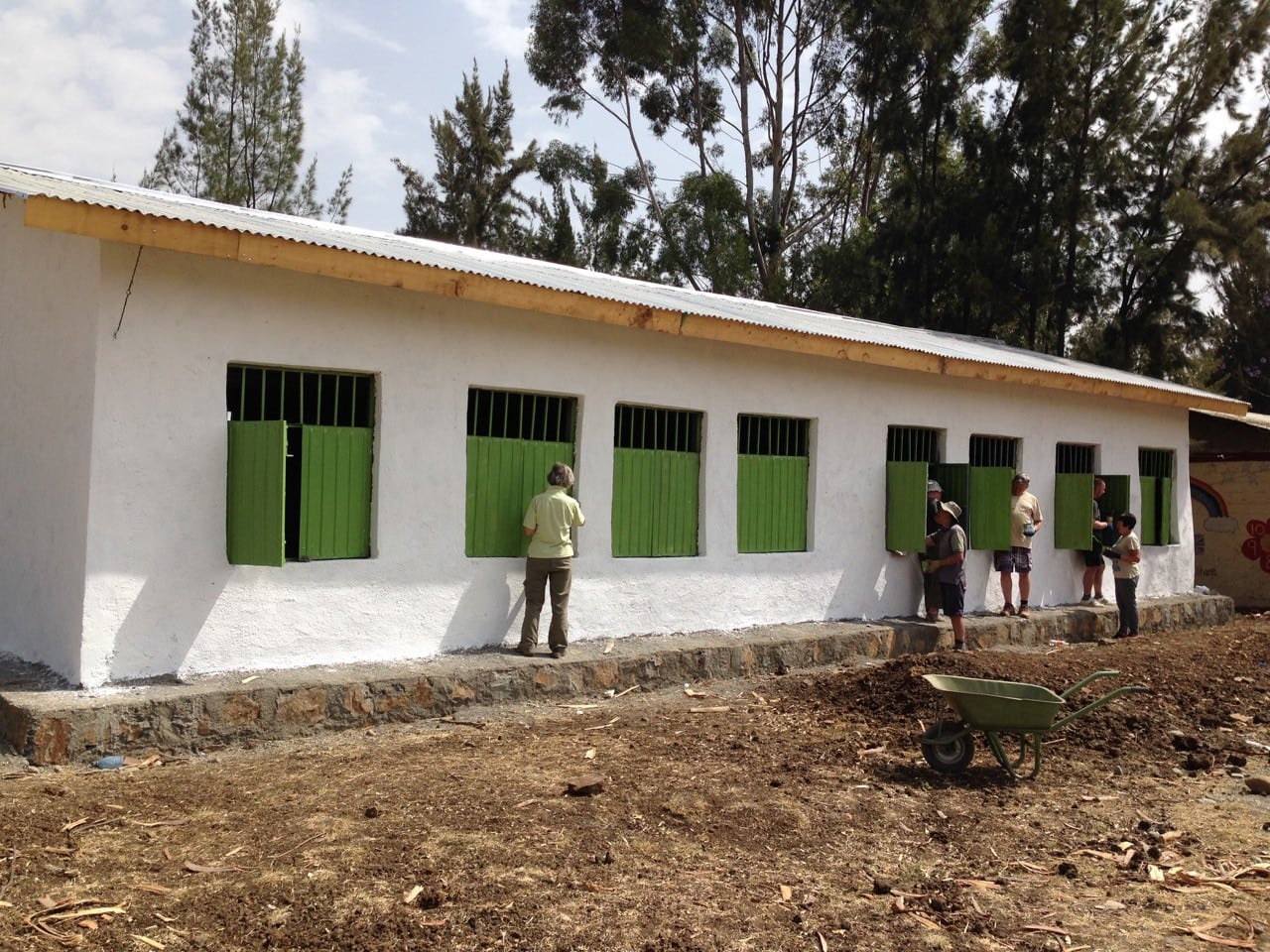 Our volunteers and their hardwork
Link Ethiopia partnered with Girlguiding North East England and AidCamps International over the last few years to fundraise for, and sign up volunteers, to open this vital resource for children in rural Ethiopia. AidCamps team of volunteers were motivated and engaged with the project, and helped ensure the building was completed on time. A number of Girlguides will also be going out this year to continue the restoration and improvement work at Andinet School – this will be their 2nd visit.
The classroom was opened in plenty of time for the Summer term. Representatives from the education authority and the local kebele attended, as did the school director. The project build had been challenging in places, liaising between contractors, volunteers and the local authorities, so we were delighted to have opened on time and to see the difference this build will make straight away. The classroom is spacious and a positive space for children to develop and learn in. Having previously had to finish educating children at grade 3, the school now plans to educate children up to grade 5. The opportunities this will provide for the local children are huge.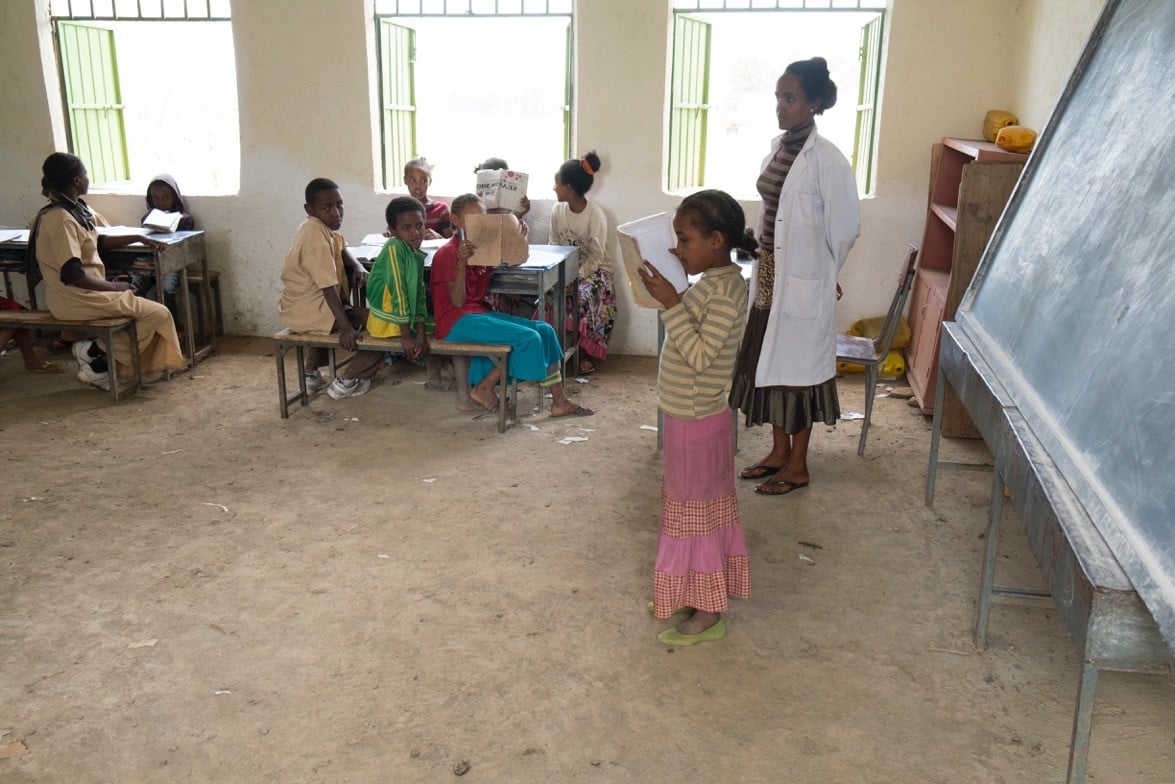 The new classroom in use
Link aims to build a further 20 new classrooms in rural areas, with a focus on schools that cannot currently offer all grades. For more about how to get involved, you can read our page here.