By Amy Hearn

One of the sponsored families I met accompanying Sitotaw on a home visit
I decided to spend some of my gap year to gain some valuable teaching experience by volunteering with Link Ethiopia for 3 months, before going on to study for a post graduate in education which would enable me to teach in primary schools in Ireland.
Prior to travelling to Ethiopia I was a little nervous about what to expect from a country that I knew little about and which seemed so far from home. I was very quickly relieved of my uncertainty once I arrived, as I was made so very welcome by everyone I dealt with at Link Ethiopia and by all the local people I met.
Ethiopian people are naturally and readily very friendly. Always smiling and keen to say hello to the 'farengis' (foreigners) in the street, adults and children alike will always greet you and approach you. They are keen to use their English on you and to find out where you have come from in the world – which is always so very far away from their world!
Arriving in Gondar – home to Link Ethiopia and the main city in the north of the country – I was assigned a group of fantastic local children who are sponsored via the Charity by schools or individuals in the UK. Using facilities in the Link Ethiopia compound the children came to me on alternate morning and afternoon sessions, working around their own school schedules. My lessons focused mainly on the more tricky aspects of English Grammar and teaching natural conversational English.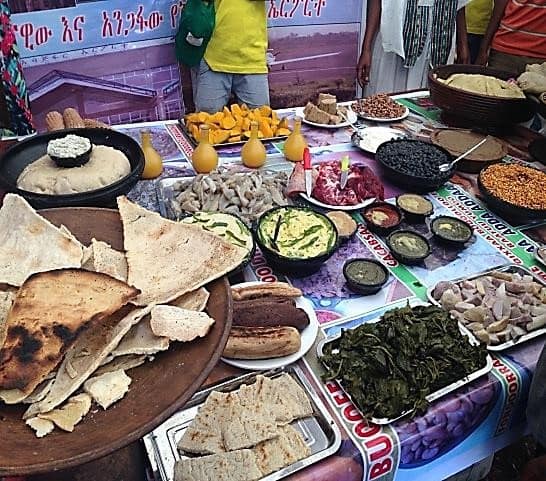 Trying different Ethiopian delicacies at the Gondar City day celebration
This was definitely a highlight of how I spent my time in Ethiopia. It was very rewarding to work with these children as they were so enthusiastic and eager to learn.
I also spent a lot of time editing and filing sponsorship reports, which are the records on each child which are sent back to their sponsors on a regular basis. This gave a useful insight into the students' lives and the challenges they and their families face. I was lucky enough to experience visiting some of the current and potential beneficiaries in their homes with Sitotow – sponsorship Manager in Gondar – which was a truly eye-opening experience. It was great to see how sponsors receive regular updates of their sponsored child's progress, health, school performance and their future aspirations.
I adapted to life in Gondar very quickly by being emerged in the fantastic culture and way of life. By working closely with all the Link staff I learned lots of new phrases in Amharic and hope to continue learning the language at home. Everyone in Gondar was really interested in teaching me their values and culture but also to learn about my country and the traditions we practice, a true cultural exchange. Gondar's culture can be seen through its language, food, traditional clothing and especially its unique cultural shoulder dance known as Eskita.
I can honestly say my time volunteering with Link Ethiopia has been a truly memorable and fulfilling experience. I have made many friends in Gondar and it feels like a home away from home. I look forward to returning to Gondar to volunteer with Link Ethiopia in the future.