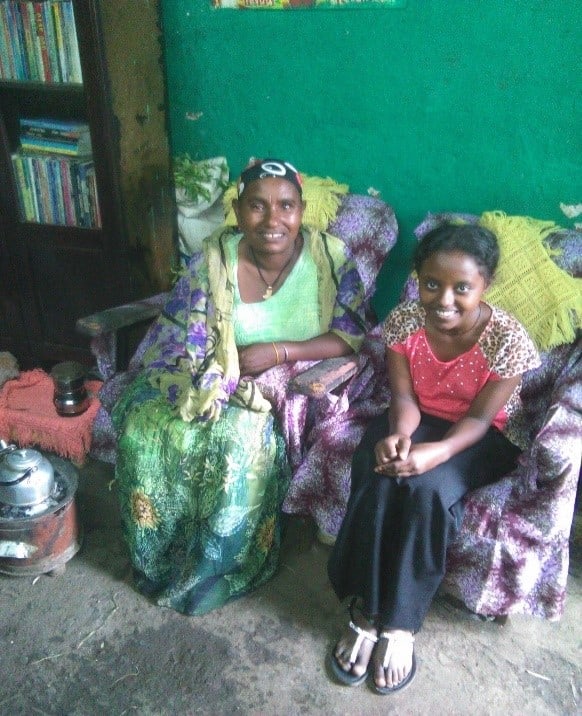 One of the supported girls with her mother in the family home
This year we have been increasing our focus on girls' education. We know that each extra year of education can have a huge impact on a woman's life in Ethiopia: increasing the amount she can earn and the amount of control she has over life decisions concerning marriage, children and health. As one of our pilot projects we supported 12 families with daughters at risk of dropping out of education because of low household incomes. The families were split into two groups and were either offered business loans or monthly grants to boost the family income. The support was conditional on their daughters staying in school. We have told the stories of two of the families below:
Birkutawit
Birkutawit is in grade 9. She has two sisters; her elder sister who is in grade 12 and her younger sister who is 7 years old and starting school next year. Birkutawit and her sisters live with her step-mother, who is the head of the household since her father passed away seven years ago. Her step-mother supports the whole family by selling injera (local bread) in the village and also works as a janitor. She earns around 400 birr per month and is also receiving her husband's pension from the government but the family lives in a rented home which costs 600 birr per month. Their rented house does not have a separate kitchen so she has to make injera in front of the house out in the open. Smoke from the fire annoys the family who live next door and they constantly fall out. The family received a loan of 5,000 which they pay back in monthly instalments.
Biruktawit's step mother said, "Before I got the loan from Link Ethiopia I was making injera by getting teff on loan and paying the cost back after I sold it. Now I can purchase 4 quintals (approx. 400 kgs) of teff at a time from the wholesaler at a much lower price." She is also able to buy cheaper bundles of firewood that can last for some months. This makes for more profit and means her daughters can attend to their school work without worrying about dropping out to support the family or missing homework to do extra chores. Biruktawit says her step-mother is very committed, enthusiastic and optimistic about running the business and supporting the family.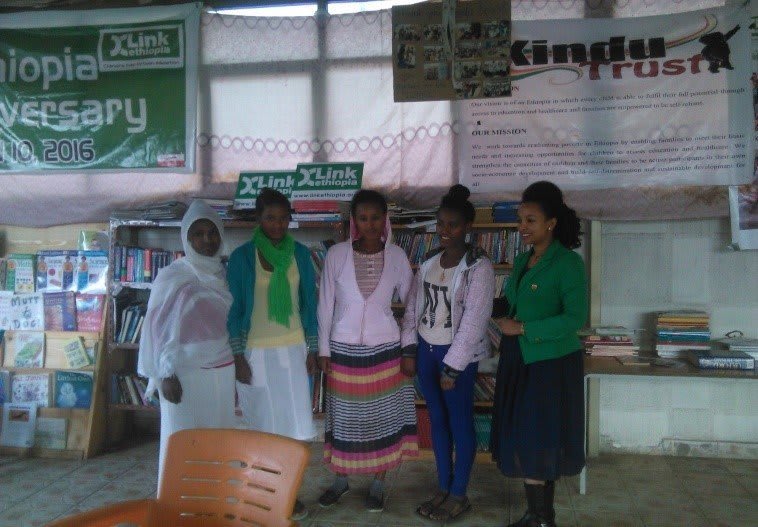 Girls attending a project meeting at the Link Ethiopia office
Yirgedu
Yirgedu is in grade 12 which means she will have the chance to go to university next year if she stays in school. She came second in her class last year, out performing over 50 other students. Yirgedu lives with her aunt and earns some money as a part time school cleaner. Unlike Biruktawit's family, she cannot benefit from a loan because her family lives in an isolated area with few customers. Yirgedu was included in our monthly grant programme and her family received 200 Birr per month for 7 months without paying back.
Yirgedu used the grant for transport, school books, to pay for extra tuition and for sanitary materials. Yirgedu's aunt said, 'This is a great support for girls to cover their needs while their family is in financial difficulties and it is a base for the other girls to do better whenever there is support like this.' Since the grants began, Biruktawit's school results have improved; she finished the year first in the class and has won a place to attend university next year.
Our team in Gondar has been impressed with all the families who participated and we are seeking funding to expand the project in future. Let us know if you can help with this!