Last month our team in London had the great pleasure of welcoming Amlaku, an English teacher at Angereb Secondary school in Gondar. Amlaku has been the Link Coordinator at his school for almost 10 years, and this was his second visit to the UK. During his three-week stay, Amlaku had a busy itinerary and embarked upon a tour of the country, visiting Nottingham, Cambridge, and Bristol as well as spending time exploring the sights of London.
Week 1
Amlaku travelled to Nottingham to participate in the Chicken Project workshop hosted by Nottingham University. The project involves building a network of academics and educators to develop a series of arts, science and English resources for British and Ethiopian schools. Over the weekend, Amlaku and Matt did a tour of London museums and saw the Ethiopian artefacts in display at the V&A as part of the Maqdala 1868 exhibition.
Amlaku's second week was spent in Bristol, where he visited his link school Backwell. He engaged with Backwell students, talking to them about their international link and showing them how to make coffee the Ethiopian way. Amlaku was also delighted that he was able to catch up with the teachers and former students who had previously visited Angereb over the last nine years.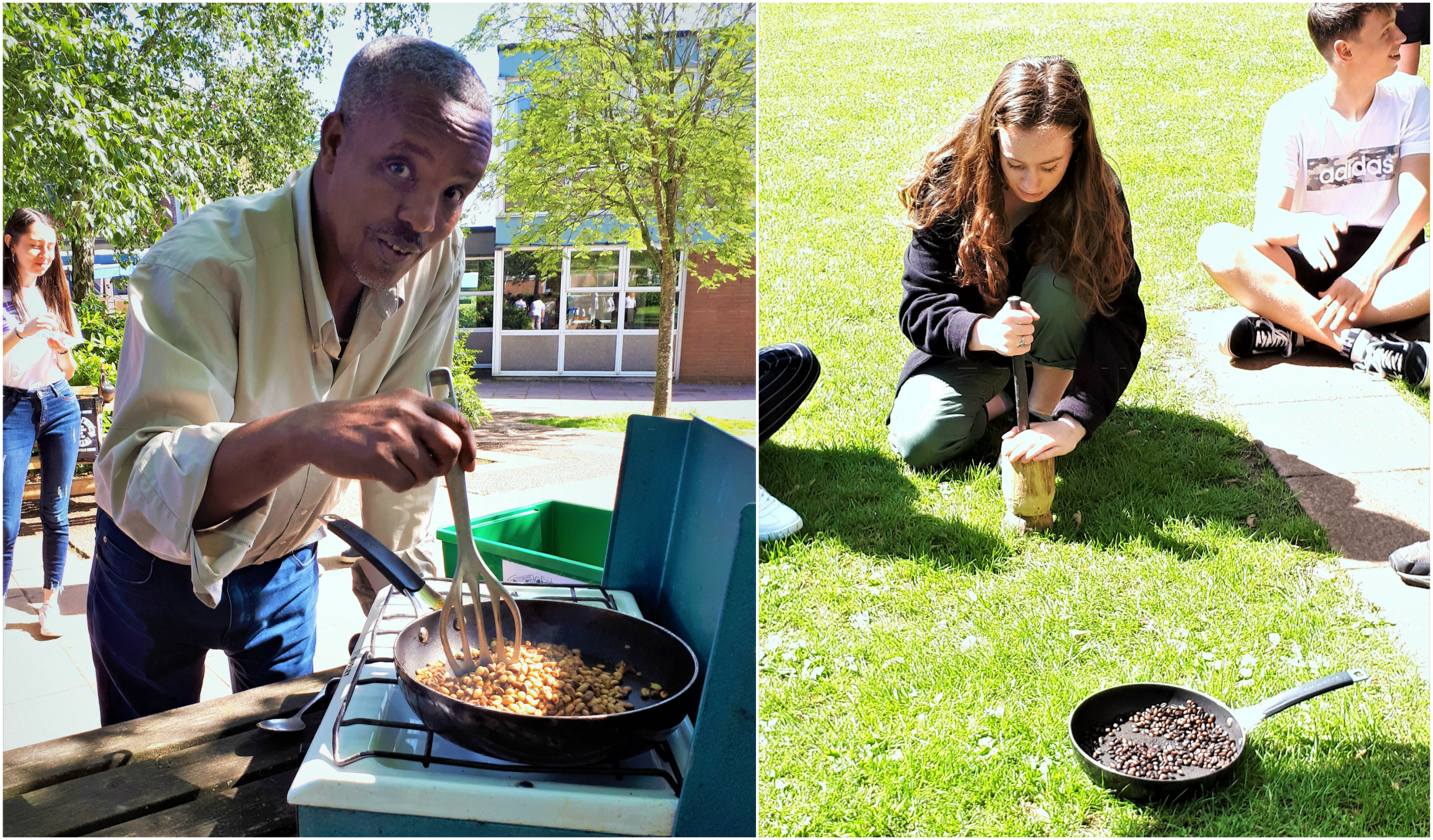 In his final week, Amlaku visited two link schools: Unicorn school in Richmond and Impington Village College in Cambridge. From the reception class at Unicorn all the way up to the sixth form group at Impington, Amlaku worked with groups to discuss the differences between Ethiopian and British culture and how we can learn from each other. The conversations were very stimulating, and the students really enjoyed learning about Ethiopia.
As with his first trip, Amlaku was impressed with some of the differences between UK and Ethiopian schools, especially the technology available in the modern classrooms. However, he was also quick to point out what the UK can learn from Ethiopia, for example, that family and community ties are much stronger in Ethiopia. Amlaku was amazed at the enthusiasm and curiosity of the students he met on his trip. Wherever he went to introduce himself and his country, he found very engaged and interested audiences.
Amlaku has asked us to pass on his thanks to Nottingham and Bournemouth University who facilitated his trip and everyone who helped with his visit, particularly at his link school Backwell. We hope he comes back again soon!