There is an African proverb which says "if you educate a man, you educate one person but if you educate a woman, you educate a nation". This proverb is now proven by research that shows us that educating girls not only increases their personal earning potential but also reduces poverty and increases life expectancy in their communities. This impact is generational as educated women have fewer, healthier and better educated children. Simply put, educating girls is fundamental for social and economic development.
Ethiopia has been making changes recently including appointing a cabinet that is 50% female and appointing the nation's first female President. This means that girls in Ethiopia now have female role models in some of the highest positions in the country.
Link Ethiopia exists to help all children gain access to quality education so we strongly believe in the universal right to education. Our job now is to enable girls in the poorest households to look up to women in powerful positions and believe they could achieve the same. In order to do that, we need to ensure that obstacles that cause girls to drop out of education prematurely are addressed. Our vision is that every girl has access to the opportunities she deserves and her community can benefit from what she has to offer.
On the 11th November, Link Ethiopia held a 10k run through the centre of Gondar to raise awareness of the importance of girls' education. The run was funded by the Jane Bubear Foundation and drew large crowds of participants and on-lookers. 450 female students took part in the run, recruited from local link schools as well as professional runners competing for the first place prize. Each runner wore a t-shirt proclaiming the importance of education for girls. After the race, the crowds gathered in Meskel Square for music, prizes for the top three men and women, and speeches from the Mayor of Gondar, Elsa, our Regional Manager, and Caroline, our Chief Executive.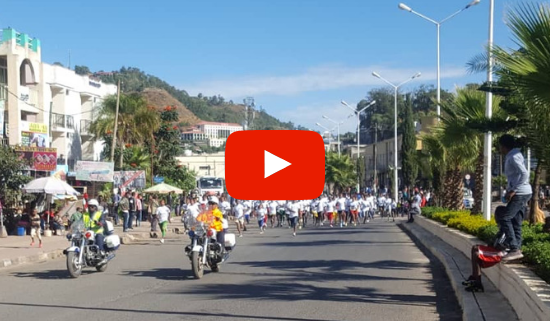 The run was an opportunity to highlight the importance of girls' education and to talk about the work Link Ethiopia does to help young women stay in school. Over the last five years, we have been refocusing our projects and programmes to make sure that they address the challenges facing female students. We have developed projects working to provide menstrual management materials to girls who otherwise miss school due to their period and to provide conditional business loans and grants to families with daughters at risk of dropping out of school. We thank all of you supporting this work.
We thank the Jane Bubear Foundation for funding the event, all the officials involved in arranging the run and all the girls and professional runners who participated on the day!