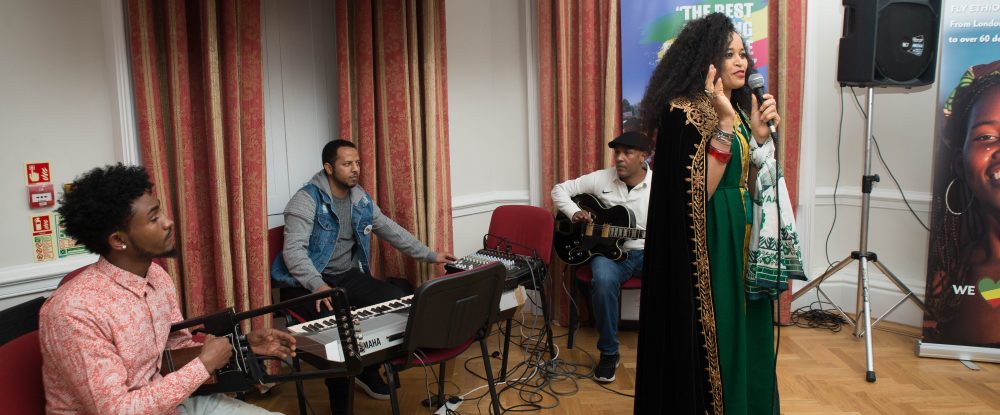 On February 8th, Link Ethiopia, joined with supporters to celebrate 20 years working to increase access to quality education in Ethiopia. The event was held jointly with our partner, the Kindu Trust, who have also been working to support children in Ethiopia for 20 years.
The event was held at the Embassy of Ethiopia in London with over 180 supporters attending. Our Chair of Trustees, Ashley England, introduced the evening and the Deputy Head of Mission, Ababi Demissie, spoke about the value of development through education before speeches by Link Ethiopia's Country Director, Haile Ayano, and Chief Executive, Caroline Walker, who also manages the Kindu Trust.
Haile spoke about the variety of experiences he has had working for Link Ethiopia over 8 years, commenting "As an Ethiopian citizen, I would like to use this opportunity to say thank you to all supporters of Link Ethiopia and the Kindu Trust for committing yourselves to these development works and to changing the lives of communities in Ethiopia". The event was part of a three week visit to the UK for Haile during which he has been visiting our link schools and other partners, he spoke briefly about what he will be taking away from his visit. "My visit has given me an opportunity to carefully observe and reflect on what we should be doing for education in Ethiopia, and it also made me question how far we need to go in order to provide a quality education that children deserve and which will enable the youth to achieve their aspirations in life. There isn't any easy answer to this question, but, no matter how hard it will be, with a collective effort and with the continued support of all donors, and everyone concerned, we can achieve our aspiration for the holistic development of communities, for those who are marginalised and aren't able to afford the basics".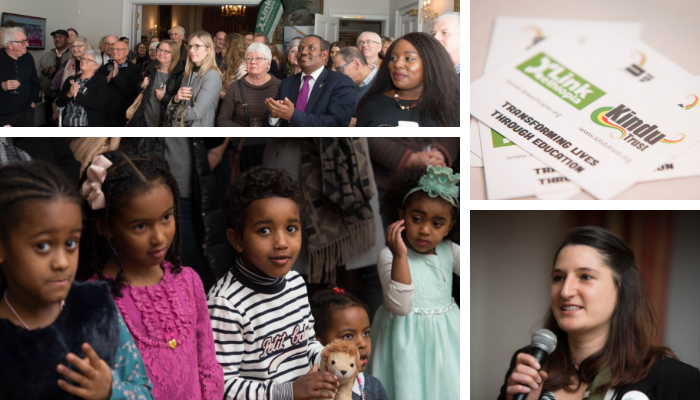 Our Chief Executive, Caroline explained that as a charity we are always evaluating our work, assessing for improvements to be made in the future, so the evening was an important opportunity to pause and to celebrate achievements from the last 20 years. She noted the charity was particularly pleased to be celebrating with so many of our supporters, since they are the reason any of our work has been possible.
She also spoke about the value that each of the charities brings to each other through working in partnership "Link Ethiopia and the Kindu Trust both put children at the heart of their mission and recognise that education is the key factor to break the cycle of poverty, and transform lives. For the past 23 years Link Ethiopia has focused on working within the education system to improve access to quality education. Meanwhile, the Kindu Trust has been working for 20 years to ensure children are able to remain in education by focusing on their home life and community. Both of these approaches are fundamental to helping children succeed through education: A child can only get to school if their home life enables it, and they can only succeed at school if the environment and quality of education is adequate".
She introduced a project that Link Ethiopia and the Kindu Trust have been working on jointly – Gondar's first Girls' Football Team.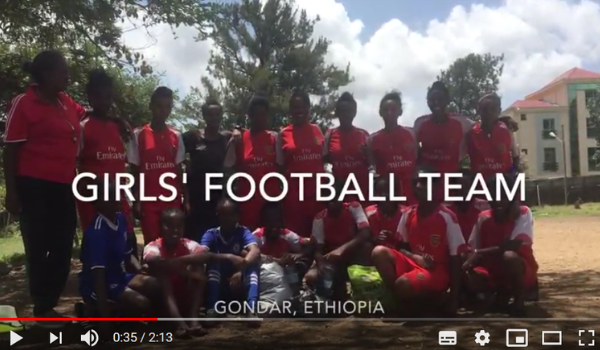 The team aims to build the self-confidence of girls and develop leadership and team building skills that will benefit them in the future. Caroline spoke about feedback from a recent evaluation of the programme; "the team members and their mothers spoke about how the girls were stronger, more confident, more organised and focused in their school work and that they had developed a network where they felt safe to give and receive feedback on a variety of topics. They were even better at playing football! If projects like these can increase young women's confidence to stay in school and participate in lessons, they will be more likely to complete their education and have better opportunities to support themselves later in life". You can donate to the Girls' Football Team project here.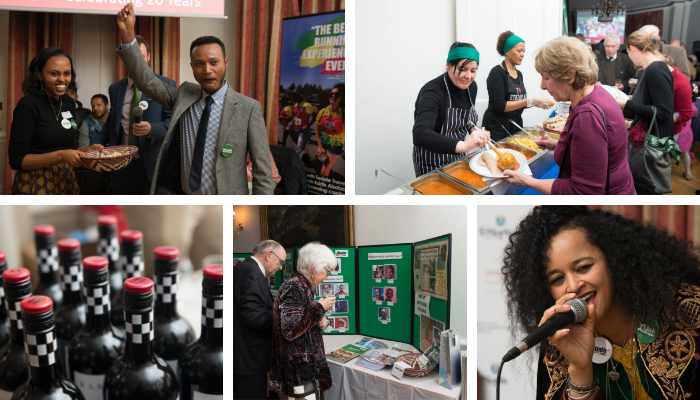 Following the speeches, it was time for celebration, there was live music from Hanisha Solomon and her band who played original Ethiopian music and led some lively eskista shoulder dancing with the audience.
Traditional Ethiopian food was served from Tutu's Ethiopian Table and there was plentiful wine from the bar.
Displays showed key milestones in the histories of the charities, while our latest annual reports were available for review for the first time.
Our team of staff and trustees were so pleased to be able to meet with our supporters, some who we had seen before in Ethiopia, or through our Tours, and some who we had corresponded with by email and could finally put a face to. We are so grateful to everyone who came for making the event so special and look forward to meeting those who couldn't make it to the event in the future.
Our thanks also go to Ethiopian Airlines, the Embassy of Ethiopia, Hanisha Solomon and Tutu's Ethiopian Table who supported the event. See all the event photos on our facebook page.